Fabric Blinds Buying Guide
Fabric blinds provide classic style with a fresh update. These window treatments use narrow fabric strips to adjust light and privacy. Just like regular blinds, the slats angle to let in moderate light and fold up to reveal an unobstructed view. However, soft, diffuse light can glow through the fabric when you close them. In addition to accentuating a home's lighting, the fabric enhances home decor. Homeowners can choose from various stunning textures and appealing colors to find one that complements their house. Explore American Blinds' site to order free color samples today.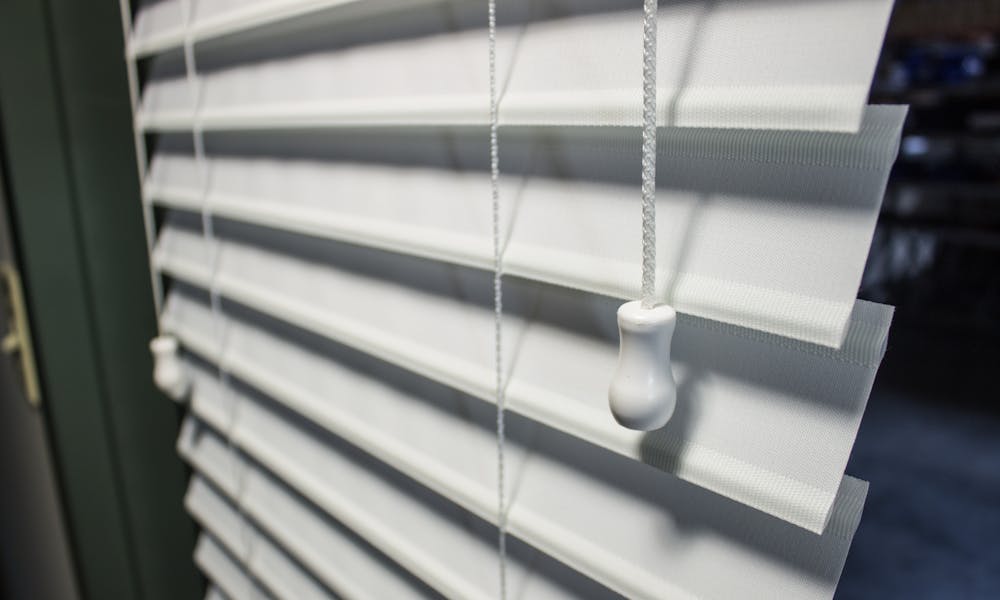 Fabric Blinds Features
Fabric blinds are one of the most versatile window treatment styles. There are many finishes available, ranging from traditional neutrals to eye-catching colors. Many colors come in both classic solids and interesting patterns. This broad selection provides homeowners with plenty of exciting options. Some prefer understated fabric window blinds that subtly complement the rest of the room. Others like striking designs that call attention to the view. Cloth blinds for windows adjust to provide different amounts of light. Raising the blinds will stack the slats in a tight bundle so that sunlight pours into the room. The slats of the blinds also angle, so you can crack open lowered blinds to bring in light without glare. The fabric selected dramatically impacts the amount of light that comes through closed blinds. Paler, light-filtering materials bring a soft glow of natural light into the room. Dark, opaque fabrics provide relaxing dimness in areas like bedrooms and media rooms.
Fabric Blinds Upgrades
The great thing about custom fabric blinds for windows is that the shoppers have the chance to add special features. Here are some fantastic options for enhancing your blinds.
Continuous cord loop: Swap out traditional cords for a looped control that fixes to the side of the window. Not only does it create a cleaner look, but it makes it easier to lift fabric blinds.
Routeless design: This method of attaching strings to the blinds eliminates route holes, so the blinds provide more light control and privacy.
Motorization: A motorized lift and tilt feature makes it quick and easy to adjust blinds. To raise or lower them, homeowners just need to press a remote button.
Cordless lift: People who want a simpler, safer design for children may prefer a cordless lift. This upgrade lets the user raise or lower the blinds by pressing on the bottom rail.
Two-on-one headrail: For larger windows, consider a style that splits the fabric blinds into two separate panels. This design allows homeowners to adjust separate halves of the window independently.
Fabric Blinds Considerations
While shopping for cloth blinds, it is important to consider all the features of these window treatments. You need to think about these details to get the right type of fabric blinds for your home.
Don't forget that some fabric types can be sheer. If light control is a priority, select room-darkening fabric window blinds.
Since fabric may absorb moisture and odors, cloth blinds don't always work well in certain locations. Some homeowners prefer to skip fabric blinds in kitchens and bathrooms.
Homeowners who prefer outside mount blinds should select styles at least a few inches wider than the windows. This provides extra coverage and light control.