Panel Track Blinds Buying Guide
Looking for a modern, elegant way to cover large windows? Panel track blinds are an ideal solution. Also called sliding panel blinds, they consist of broad strips of fabric that move back and forth on a horizontal track. These tasteful window treatments provide excellent light control while seamlessly coordinating with your other decor. Panel track blinds are available in everything from woven wood to UV-resistant fabric, so homeowners can easily find their perfect style. Shop American Blinds panel track blinds now to order free samples.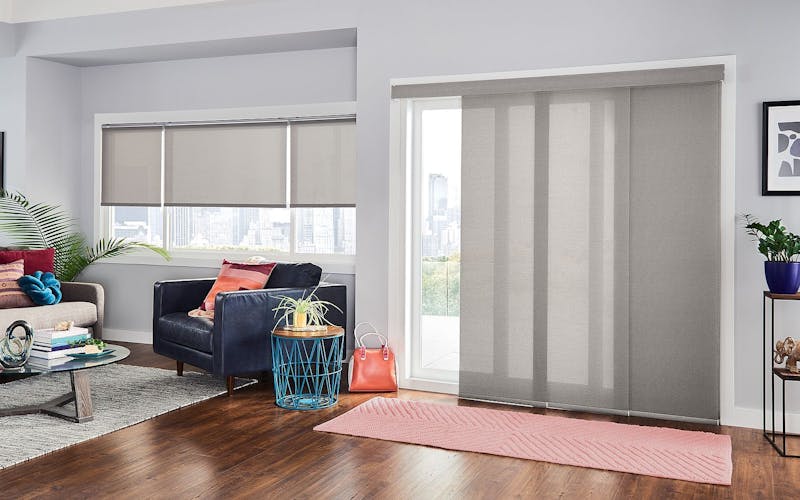 Panel Track Blinds Features
Panel track blinds consist of several fabric strips hanging from a panel at the top of the window. These panels overlap slightly to block light and provide privacy when you close them. Just slide the panels to the side to look outside or open a door. They stack up on each other to hang neatly out of the way. This convenient style of window treatment makes a stunning statement on large windows, sliding glass doors, and French doors. Sliding panel blinds provide the functionality of vertical blinds while offering more tasteful design options. The hanging panels of this window treatment come in hundreds of colors and textures. Shoppers can choose from simple, understated solids or dramatic, eye-catching patterns. With plenty of colors like charcoal, cream, burgundy, and navy, it's easy to find a shade that suits your decor. There are also many textures to choose from, including woven wood, linen, and damask. Sheer fabrics bring in filtered natural sunlight while blocking UV rays that damage furniture. Opaque materials create a dim environment for sleeping or watching media.
Panel Track Blinds Upgrades
Standard sliding panel blinds are already a distinctively elegant and useful window treatment. If you want even more convenience and style, try one of these upgrades:
Light-control liners: If a person loves a certain color but needs more privacy or light control, a liner can help. This useful feature can add opacity, even to very pale fabrics.
Decorative valance: Upgrade the standard headrail to turn it into a coordinating valance. American Blinds uses matching fabric to create an elegant valance that accents the top of each window.
Premium finishes: Luxe materials like embroidered damask or woven wood create a refined look for any window. This upgrade is ideal for homeowners who prefer especially sophisticated decor.
Panel Track Blinds Considerations
It's important to select the perfect coverings for various windows around the house. To find the right style, homeowners need to consider these factors:
Sliding panel blinds open side-to-side, which is useful for things like doorways. However, windows that open from top to bottom don't always work well with panel track blinds.
This window treatment tends to have a large scale that works best with doors, tall windows, or very wide windows. Sliding panel blinds may not suit certain types of petite windows.
The guided track at the top of the blinds requires decent mounting depth. For shallow window frames, outside mounted blinds may work better.