Vinyl Blinds Buying Guide
Vinyl blinds are one of the most popular window treatment types for a reason. They're elegant and stylish while also giving you complete control over the amount of light in your room. When you want the perfect blend of beauty and practicality, vinyl blinds are an ideal option. To find the perfect blinds for any room, all you need to do is browse the vinyl blinds collection at American Blinds.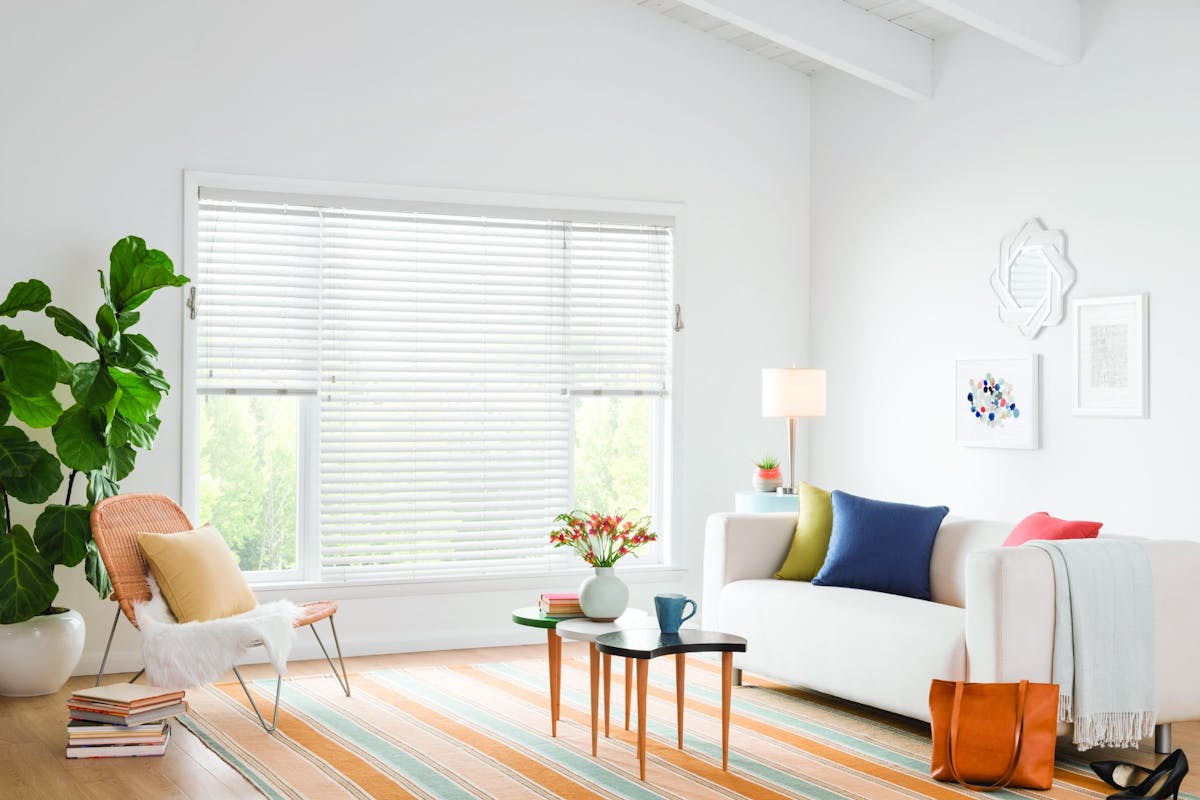 Vinyl Blinds Features
Vinyl blinds are popular because they come with so many personalization options. Homeowners can choose from a variety of colors, widths, and textures to get a look that suits their décor. Whether you want simple white blinds, elegant wood-look blinds, or colorful patterned blinds, there's a vinyl option for you. With plenty of free samples to consider, it's easy to find blinds that complement your home. Ultimately, vinyl blinds can go with every type of décor, ranging from cozy farmhouse to mid-century glam. The amount of light in a room makes a big difference to its style and functionality. With vinyl blinds, a homeowner can fine-tune the levels of light inside the home. Raising the blinds lets natural sunlight stream in while closing them entirely darkens the room. You can also tilt vinyl blinds to add filtered light or angle them to block glare. Some styles like vinyl mini blinds or vinyl s-curve blinds have extra light-blocking features, so they can darken a room even more.
Vinyl Blinds Upgrades
In addition to the variety of colors and textures, homeowners have some other vinyl blinds features to think about. You may want to include one or more of these helpful add-ons.
Split blinds: When you're covering extra-wide windows, consider a two-on-one style that has two split panels of blinds on a single headrail. This provides a sleek appearance while also letting you have more control over blind adjustments.
Cloth cord covers: These cloth tapes go over the cords that run through holes in your blinds. The elegant fabric helps to enhance privacy and light control, and it makes the blinds look even classier.
Control styles: The standard control method for most blinds is a set of strings. However, some blinds come with a ring pull to raise blinds or a wand to tilt the blinds. There are even cordless styles available that let people raise blinds by gently pushing on the bottom rail.
Premier finishes: For the ultimate style, consider splurging on higher-end finishes. These have special coatings and textures that add a lot of flair to blinds. Pick vinyl blinds that look like wood or patterned ones that make your windows pop.
Vinyl Blinds Considerations
To get the ideal blinds for your home, you'll need to consider a few details.
Homeowners should decide whether they want an inside or an outside mount before purchasing. Inside mount blinds tend to look a little sleeker and do a better job of providing privacy. However, for unconventional window shapes, outside mount blinds may be easier to install.
Don't forget that vinyl blinds are one of the most waterproof window treatment styles. Even if you don't use them elsewhere, they're ideal for kitchens and bathrooms.
Trying to choose between matte or glossy finishes? Keep in mind that glossy finishes reflect light, so they make a room look larger and more vibrant. Meanwhile, matte blinds have a more relaxed feel and do a better job of hiding any scratches or dings.