Curtains and Drapes Buying Guide
Curtains and drapes are ideal for transforming any window into a stunning statement. These gorgeous panels of fabric frame your view and help you adjust light and privacy levels. The variety of fabric, weights, and colors allows you to select custom draperies that complement any setting. Order free swatches from American Blinds when you're ready to find the perfect ones for your home.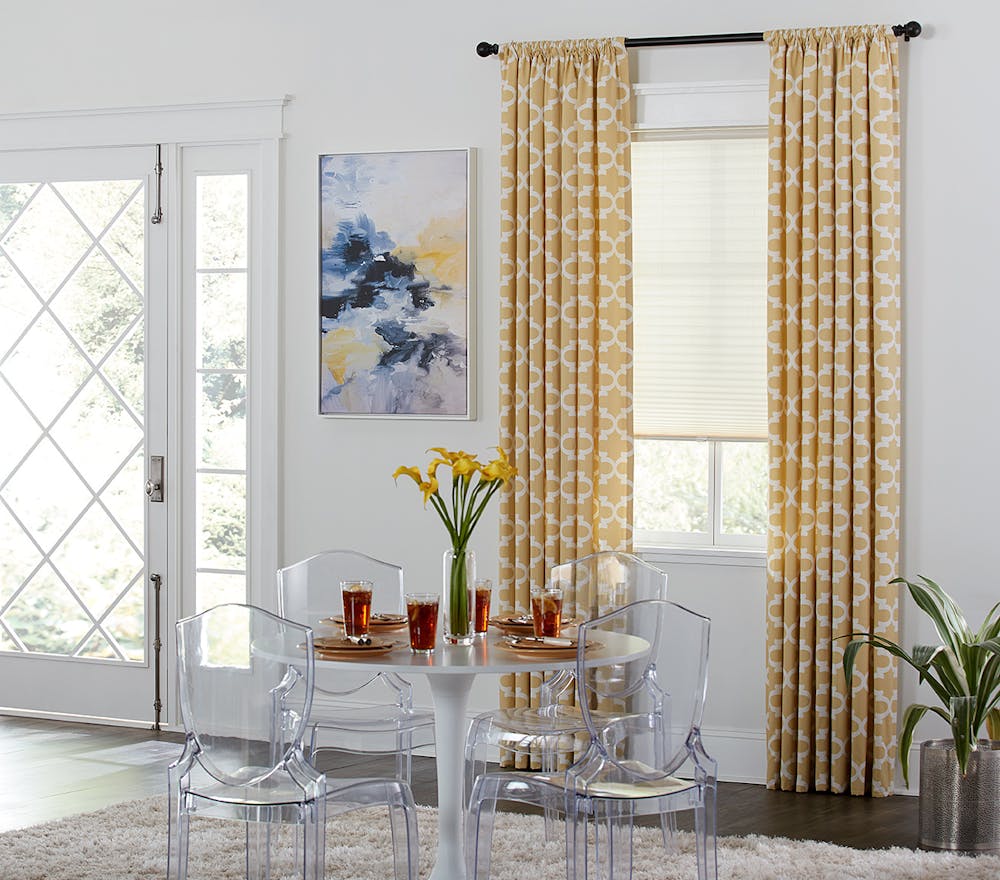 Curtains and Drapes Features
Quality curtains come with ample features that accent your windows. Many styles have sewn-in pleats across the top. Classic pleats bunch the fabric into crisp folds while French pleats let the fabric gracefully fan out. For a more modern style, check out curtains with grommets. These metal rings slide over the curtain rod while the fabric drapes in gentle waves. You can also try drapes with a pocket that hides the rod if you prefer a streamlined look. The fabric you choose for your drapes majorly impacts the final product's style. Soft, sheer fabrics provide an airy look and let filtered light stream in while traditional brocades offer timeless elegance. Whether you prefer soft neutrals or bold jewel tones, curtains let you match your window treatment to your décor. The fabric pattern also influences the final look of your window treatments. Complex patterns create visual interest while simple solids offer an understated backdrop. Blinds Upgrades
Curtains and Drapes Upgrades
Draperies are a very flexible window treatment that works with several optional add-ons. Homeowners who want to enhance their décor and make their curtains more practical might want to try these upgrades:
Liners: Love the look of a certain fabric but wish it was less sheer? Custom lining options allow homeowners to turn any material into a blackout or light-filtering curtain.
Contrasting edges: Some styles let you choose a decorative band for the bottom of your curtain. This border in a contrasting color adds extra visual appeal.
Matching hardware: American Blinds offers the option of purchasing matching hardware alongside your drapes. Decorative rods and tiebacks make your window treatments look even more distinguished.
Curtains and Drapes Considerations
With all the possible options that come with choosing curtains and drapes, there's a lot to consider before you make your final purchase. The following are several details to consider to ensure you get the perfect draperies for your home.
When shopping for grommet curtains, don't forget about hardware color. Many prefer a grommet color that matches their curtain rod or coordinates with their décor.
Keep in mind that curtains can be decorative or functional. Consider decorative side panels if you don't need curtains to cover the full window. This affordable option is just wide enough to bunch gracefully on either side of the window.
When ordering curtains, enter the width of the window, not the desired width of the fabric panel itself. American Blinds will craft curtains that cover the specified distance while folding in stylish waves.
Before purchasing, think about which way you want the curtains to open. Split-draw curtains open from the middle while one-way draw curtains slide to a single side of the rod.