Arched Window Shades Buying Guide
Though arched windows look graceful and distinctive, they come with unique challenges. These curved windows don't always work with traditional window treatment styles. Instead, homeowners need a custom style that's just as distinctive as their dwelling. There are several styles of window treatment to consider when covering arched windows. Depending on your style, you might prefer cellular shades, window shutters, or shelf-mounted blinds. To find the right style for your window arches, browse American Blinds' collection of blinds for arched windows.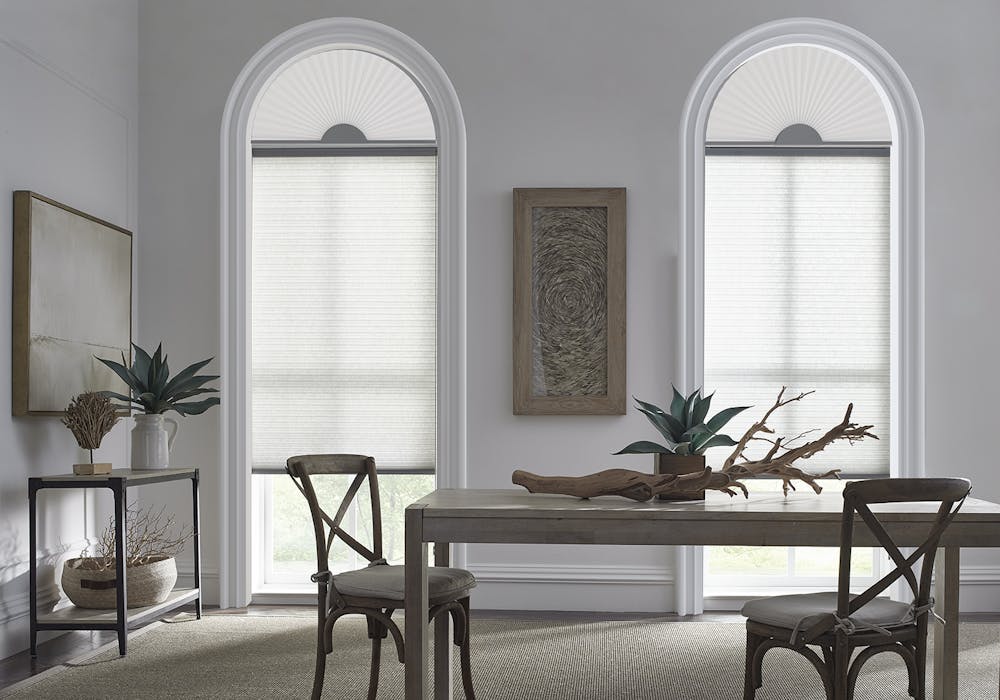 Arched Window Shades Features
When it comes to finding arched window blinds, homeowners have several options. Cellular shades are a practical and convenient choice. These shades have pleated fabric that arches out from a central mounting joint. The honeycombed cells provide insulation while the fabric filters or blocks light. Another excellent method for covering arched windows is composite wood shutters. These interior shutters have a custom-made arched frame that mounts over the arch. Wood panels swivel outward in a decorative sunburst design while blocking glare. Homeowners can also consider a Palladian shelf. This elegant wood shelf mounts across the straight sides of the window. Users can then hang whatever blind or shade they want along the shelf. Whatever style of window blinds or shades you pick, there are plenty of finishes to consider. Composite shutters come in various whites, creams, and beiges to coordinate with window trim or other blinds. When selecting cellular arched window shades, homeowners have even more options. Cellular shades are available in a broad range of neutral, pastel, and jewel-toned shades. Homeowners can pick a color that seamlessly blends into the background or a hue that makes their windows stand out. Remember that American Blinds offers free color samples so that shoppers can discover the perfect match for their home.
Arched Window Shades Upgrades
Arch window blinds and shades offer plenty of chances to customize the window treatment. Depending on the type of blinds for arched windows a homeowner selects, they can try one of these upgrades:
Movable panels: Some styles, like composite wood shutters, usually remain fixed in one position. Upgrading to a movable version lets homeowners adjust their light levels throughout the day.
Antimicrobial materials: Consider upgrading to antimicrobial fabric when shopping for cellular shades. This material minimizes microbial growth, so the shades are easier to maintain.
Decorative backing: Backing on an arched window shutter blocks more light. It provides a stylish look with grooved panes, yet it keeps the home nice and dim.
Atypical arch shapes: Standard arched window treatments are for windows that are a perfect half-circle. A more uniquely shaped shade is necessary in homes where arched windows are more elongated or oval-shaped. These require additional care when measuring and fitting.
Double cell: For homeowners who prioritize insulation, double cell shades are available. These have multiple rows of cells, so they better maintain the home's interior temperature.
Arched Window Shades Considerations
Homeowners should know a few things before selecting a shade for their arched windows.
Some cellular shades are sheer enough to let natural light enter the home. If you prefer more privacy and light control, choose blackout shades instead.
Don't forget surrounding windows when shopping for arched windows. Homeowners who want a cohesive look should select arched shades with matching options for rectangular windows.
For a uniform exterior look, make sure to select shades that come with the option of a neutral-colored fabric backing.