Bamboo Shades Buying Guide
Bamboo shades provide the ideal blend of tasteful elegance and organic texture. Also called matchstick shades or natural blinds, these window treatments consist of thin, flexible strips of wood woven together. They come in a variety of colors, so it's easy to find a hue that matches your interior design. To see all the gorgeous options available, explore American Blinds' bamboo shades collection and order free color samples today.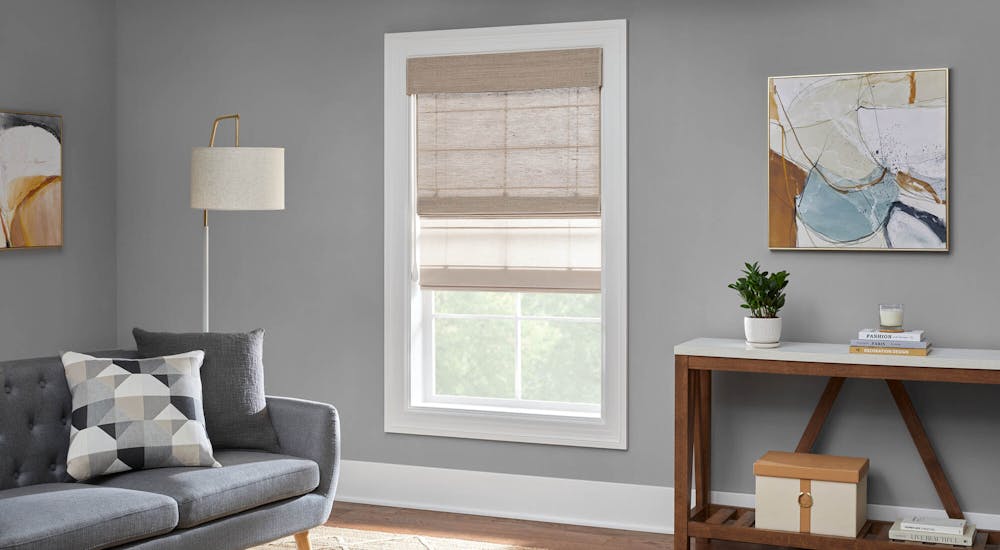 Bamboo Shades Features
Bamboo blinds provide your home with a unique, all-natural style. The wooden strips create soft, tone-on-tone color variations, so no two blinds are identical. Homeowners can choose from a variety of designs, and each has its own special color, texture, and feel. Some styles use thin grass strips for subtle texture, while others have thick wood slats that provide appealing visual interest. Whatever you pick, each blind is a handwoven, natural work of art that adds warmth and style to your interior. Woven wood shades are one of the most versatile styles available. The organic look of wood complements just about every type of home décor. Luxe woven wood provides an elegant look in traditional rooms, while streamlined styles easily coordinate with minimalist décor. The shades come in tasteful neutrals that match a variety of color schemes. Matchstick blinds also offer some practical advantages. Bamboo shades filter light, so you get privacy while still enjoying soft, natural light inside the home. You can raise them to brighten a room or lower them to block glare. No matter how you adjust them, they still look great. Depending on the style a person selects, the open blinds wrap into a streamlined roll or bunch into graceful folds.
Bamboo Shades Upgrades
One of the great things about bamboo blinds is that they're extremely easy to customize. These optional add-ons let you alter your natural blinds to suit your personal tastes.
Light control liners: Add a light-filtering or blackout liner to adjust the amount of light that enters the home. This lets you get the look of bamboo shades while being able to block more light.
Top-down/bottom-up: This special mounting method allows for raising the woven wood blinds from the bottom and lowering them from the top. It's a great way to get exactly the amount of light control and privacy you need.
Coordinating valances: To add a little extra flair, consider a matching valance to go over the top of the blinds. A wide range of valance hem and edge styles lets homeowners pick a valance that matches their personal taste.
Cordless control options: Swap out the traditional cord for a continuous cord loop chain, a cordless lift, or a motorized lift. These are safer for children and pets and can make it easier to adjust the woven wood shades.
Bamboo Shades Considerations
If you've never used bamboo blinds before, it's a good idea to learn a little more about these window treatments. To make sure you select the perfect product for the home, there are a few things to know.
Don't forget to look at edge binding colors when selecting the natural shades. These come in a variety of coordinating and contrasting shades, and they make a big difference to the final look.
Pay close attention to the thickness of the weave you select. Thicker weaves will provide more privacy, while thinner weaves let in more light.
Keep in mind that bamboo shades don't naturally block heat. If you want something insulating, make sure to upgrade the shades with blackout liners.