Outdoor Shades Buying Guide
Are you tired of glare and heat making your outdoor space unpleasant? Outdoor shades are the ideal solution. These stylish window treatments block harsh solar rays while letting you enjoy the view and the breeze. Shades are a great way to improve your home's comfort level, whether you hang them over windows or between porch columns. Explore American Blinds' selection of patio shades now to create the perfect outdoor space for your needs.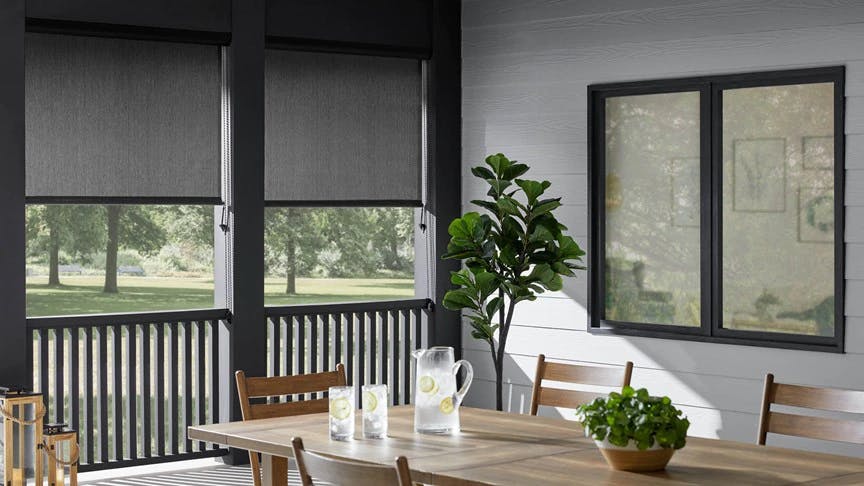 Outdoor Shades Features
If you want to enjoy the outdoors but dislike the strong sun, outdoor shades are very helpful. You can mount these shades around porches, patios, pool decks, or other areas to provide shade. Many homeowners also enjoy using outdoor shades on windows to block the sun and make their houses cooler. In addition to providing shade, these blinds enhance privacy. Hanging an outdoor blind in the right spot allows you to create your own private retreat. Outdoor blinds easily coordinate with your home's exterior. Choose from simple, understated neutrals or fun patterns that add an extra flair to your porch. The colors you choose will do more than complement your architecture. They also have a functional impact. Some shade materials block more sunlight, while others allow you to see through the shade more easily. These blinds and shades have specialized features that make them suitable for outdoor areas. Many styles have UV-blocking properties that help protect the shades and your other furniture from the sun. You can also find a variety of weather-resistant materials that moisture or dust can't damage. Outdoor shades come with specialized mounts that allow you to hang them on your home's exterior. Ceiling mounts let the shades hang from a porch roof, while wall mounts attach a shade to walls or columns.
Outdoor Shades Upgrades
To obtain the perfect outdoor blinds for your home, it can be worthwhile to add some upgrades. These bonus features can make outdoor spaces even more stylish and functional.
Matching valances: This stylish upgrade fits over the roller at the top of the shade. It conceals the shade's mechanisms and creates a more streamlined shade. 
Extra hardware: All outdoor shades come with basics like mounting hardware and tie-downs. However, if you're living in an area with extreme weather, it can be worthwhile to get extra hardware. This can better secure shades from wind and storms.
Motorization: This feature lets you raise or lower your shades via remote control. It makes patio blinds more convenient, and it's especially useful for larger or hard-to-reach shades. 
Cordless crank: Eliminate cords, and operate solar shades with a turnable crank instead. This upgrade is ideal for homes with children or pets.
Outdoor Shades Considerations
There are a lot of styles and designs to choose from while shopping for outdoor shades. To find the right shades for your home, consider these features:
If you select patio shades with a pattern or noticeable weave, pay attention to orientation. Some styles let you choose a vertical or horizontal orientation to achieve the look you want.
You can pick a solar shade that hangs off the back or front of the roll. Patio shades typically hang from the back to provide maximum light blockage. However, some homeowners prefer a reverse roll because it looks sleeker. 
Many outdoor shades come with an opacity rating. This number tells you the percentage of light that the shade allows through. Higher percentages will be sheerer, while lower percentages are more opaque.