Pleated Shades Buying Guide
When you want to enhance your home's style and comfort, pleated shades are an ideal option. These sophisticated shades have slim accordion pleats that allow the shade to fold up neatly when not in use. The simple yet effective design provides homeowners with plenty of light-control options. In addition to blocking glare, pleated blinds also let homeowners upgrade their home's decor. The streamlined look, variety of colors, and appealing patterns are a lovely accent in any room. To explore all of American Blinds' styles and order free samples, check out the accordion blinds collection now.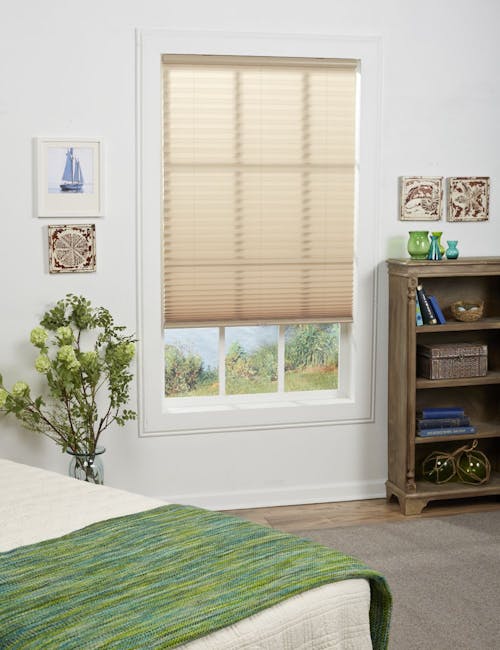 Pleated Shades Features
Accordion blinds excel at providing soft, filtered light. Homeowners can lower the shades to reduce glare while still getting some natural light in the room. There are multiple opacity options, so pleated shades can let in plenty of light or completely dim the room. When they want to enjoy the outdoors, people can easily raise these blinds out of the way. The pleats ensure that the material stacks neatly into a compact bundle. One of the best things about pleated shades is that they allow you to accent your windows with gorgeous materials. Homeowners can choose from a variety of stylish fabrics to find the one best suited for their home. Understated neutrals like sand and charcoal provide a tasteful backdrop to decor. Meanwhile, brighter hues like navy and terracotta can match or complement furnishings. Homeowners who want additional visual interest can also choose from florals, stripes, and other elegant patterns. Some styles also come with interesting textures, such as linen or sailcloth, that add a little extra flair to the pleated blinds. Pleated shades come in a variety of sizes. Some shades pleat in narrow, 1-inch pleats while others fold into broad 2-inch pleats. The right size typically depends on both window size and personal preference. Large windows tend to look more balanced with large pleats while small windows look better with small pleats. However, it's also a matter of taste. Some homeowners like the visual interest that smaller pleats provide while others enjoy the clean lines of larger pleats.
Pleated Shades Upgrades
Pleated shades come with many appealing upgrade options. Homeowners may want to consider adding one or more of these features to their shades.
Cordless: If you want a window treatment that is safer for children and pets, try a cordless lift. This upgrade lets people adjust shades by lightly tugging on the lower rail.
Motorization: For even more convenience, try motorized lifts. Not only does it eliminate cords, but it also lets homeowners raise and lower shades with a remote.
2-on-1 headrail: This upgrade is ideal for larger windows. It splits wide blinds into two separate panels on the same headrail, so it's easier to fine-tune shade adjustments.
Light-blocking liner: Certain lighter fabrics may not provide as much light control and privacy as homeowners prefer. In these cases, people have the option of choosing from multiple liner styles. These can make the pleated blinds a little more opaque or entirely block light.
Pleated Shades Considerations
When purchasing pleated shades, it's helpful to explore all your options thoroughly. Here are some things homeowners should know before they select a specific style of pleated blinds.
In situations where you want privacy at eye level but plenty of natural light, try a sun up/sun down shade. This installation style has an adjustable light-blocking panel that can cover the whole window or just the bottom half.
When considering colors, don't forget to think about rail color. Custom rail colors can match or contrast with shades to create a very distinctive look.
For larger windows, consider selecting shades with NeatPleat pleating styles. This back-ladder design keeps pleats from sagging downward over time.