Roller Shades Buying Guide
The classic simplicity of roller shades makes them a popular choice for homeowners. These shades reduce glare and increase privacy with ease. In addition to being convenient and affordable, roller shades are also quite stylish. With so many colors and patterns to choose from, the shades can be as striking or as inconspicuous as you prefer. Discover the ideal material for your home by ordering free color samples from American Blinds today.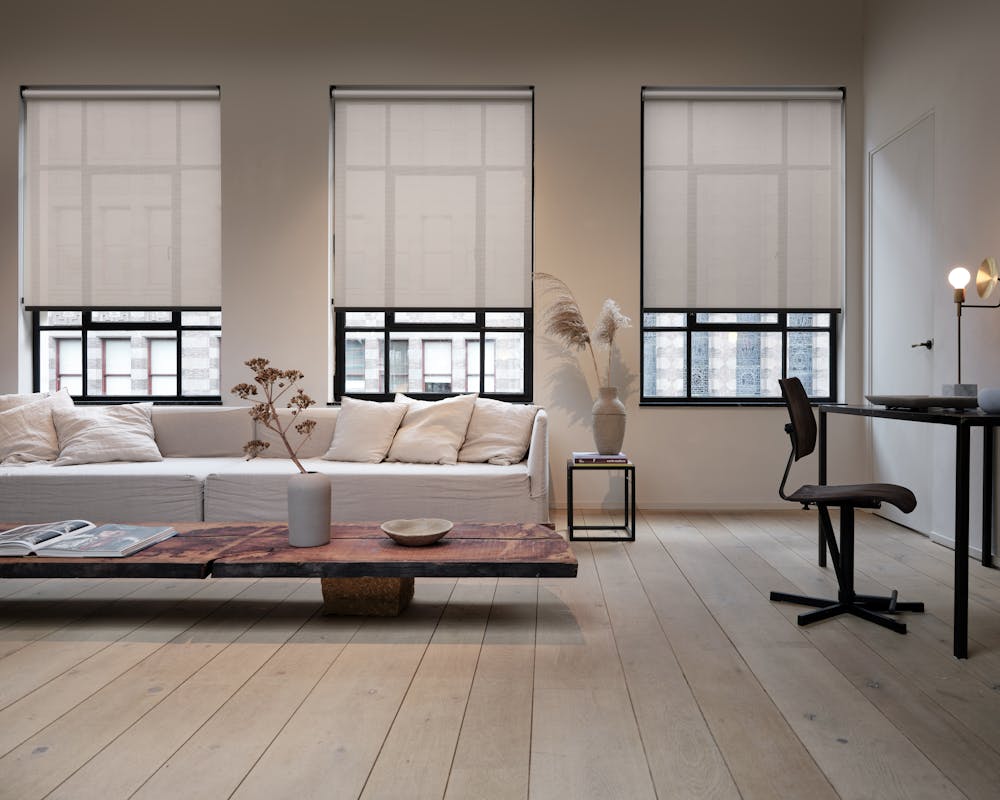 Roller Shades Features
With roller shades, you ensure that your home gets the perfect amount of light. Translucent shades let filtered light stream gently over furniture. Meanwhile, blackout roller blinds help create dim rooms for taking a nap or using electronics. To adjust interior light levels, all you need to do is move the shade up or down. The panel neatly rolls out of the way when you want to see your view or get more sunshine inside. When you need privacy or want to block glare, the shade quickly rolls down to cover your window. Roller shades are certainly a practical choice, but they also provide homeowners with unparalleled style. The sleek, flat panels of these shades are a lovely backdrop for all types of decor. Neutral shades in an understated tone have a modern look while fabric shades with elegant patterns provide traditional flair. Homeowners can choose from soft fabrics, textured, woven wood, and smooth vinyl materials. Since these shades come in so many finishes, it's easy to get a window treatment that showcases your personal tastes.
Roller Shades Upgrades
Roller shades are one of the most customizable types of window treatments. You can easily upgrade them with one or more of the following add-ons.
Motorization: Motorization makes your roller shades even easier to lift. Instead of having to walk to the shade, you can adjust it from across the room. All you need to do is click a remote button or use a voice command.
Matching valance: To make roller shades look even more distinguished, top them with a decorative valance. American Blinds offers valances and cornices that perfectly match your roller shade.
Cordless controls: This upgrade makes the shades even safer for children. Cordless controls come in many styles including continuous cord loops and wand motors. 
Roller shade linings: The option of adding a lining lets homeowners get the perfect blend of style and functionality. You can select whatever color or pattern you like and then add a blackout lining to dim the room. Some styles also have light-reflecting lining options that help insulate the home better.
Roller Shades Considerations
To find the best window treatment for your needs, it's a good idea to learn a little about the products. Here are some things you should keep in mind while shopping for roller blinds.
Especially with sheer materials, light traveling through the shade can make the pattern or color look subtly different. Homeowners who have a specific look in mind might want to use a blackout lining.
Roller shades have a minimum depth requirement if you want to hang them inside the window frame. For shallow windows, try an outside mount instead. The addition of light blockers will ensure that your outside mount shades still provide great coverage.
Don't forget that light-filtering shades still let outside viewers see silhouettes inside the home. For better privacy, try a thick lining or pair the shades with heavier drapes.