Roman Shades Buying Guide
Love the beautiful fabric of curtains but want a practical window treatment? Roman shades give you the best of both worlds. You can easily filter or block light while enjoying the look of stylish fabric. Whether you want romantic, delicate florals or bold, modern stripes, it's easy to find a Roman blind that suits your taste. Order free color samples from American Blinds now to find the perfect fabric for your Roman shades.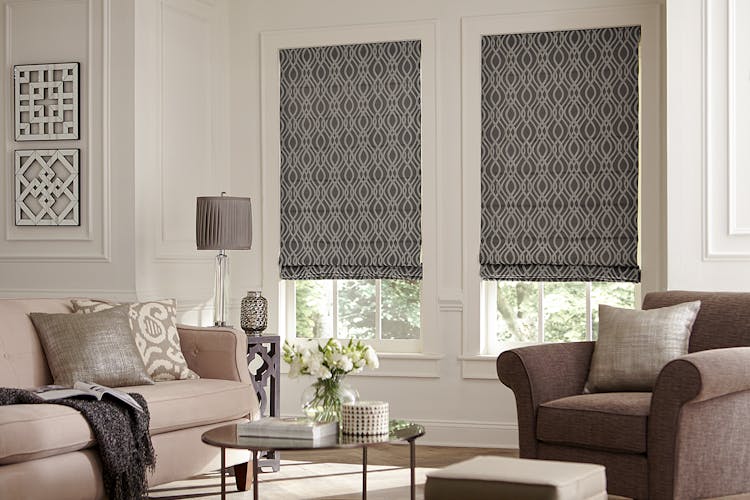 Roman Shades Features
Roman shades give the discerning homeowner countless colors, textures, and patterns to choose from. They come in everything from fun, bright florals to elegantly understated neutrals. It's easy to find a style that suits your home. You can select a bold color to highlight your view or a subtle one that won't distract from your decor. And remember, if you love too many fabrics to pick just one, American Blinds' design consultants are here to help. Roman blinds are beautiful, and they're functional, too. Depending on your selected material, these treatments can block glare, dim a room, or give you privacy. You can lower Roman shades to cover your window or raise them to enjoy your view and let in natural light. Roman shades are available in a few different fold styles that affect the appearance of the lowered window treatment. A plain fold has smooth fabric at the top with tidy bunches along the base of the shade. A hobbled fold has graceful fabric swags along the whole shade that stack as you raise it.
Roman Shades Upgrades
Make Roman shades your own by customizing them with helpful add-ons. Here are a few awesome upgrades to consider when planning your window treatments.
Liners: There is the option of adding a backing liner that filters light or blocks light entirely. These liners also help the home's windows to look cohesive when viewed from outside.
Cordless control options: For a more streamlined look that's easy to operate, try one of American Blinds' cordless options. You can upgrade these with a continuous cord loop, a cordless lift, or a motorized lift. Motorized lifts are particularly convenient because you can raise the shades with the click of a button.
Edge banding: All American Blinds' shades end in a neat hem, but if you want additional flair, try a decorative edge. You can pick a strip of tape in matching or contrasting colors to add an extra touch of luxury.
Premium folds: These upgrades make your shades look more distinguished. They drape the fabric in horizontal swags across the full shade to create a pleasantly sculptural shape.
Roman Shades Considerations
There are a lot of little details to know about these shades before buying them. To get your ideal Roman blinds, you'll need to take the time to think about these factors.
Keep in mind that some fabrics will naturally block more or less light than others. Sometimes, the sun shining through a sheer fabric can change its color slightly. To get the look you want, a liner may be necessary.
Roman shades have a tall stack which means that when raised, they take up a lot of space. Measure carefully to make sure your raised shades won't block your view.
Roman blinds are a fairly thick type of shade. All the extra fabric means they'll only work with an inside mount on deep windows. For shallower windows, select an outside mount instead.
Hobbled or seamed folds have rows of horizontal streams that can break up the fabric pattern. If you want an uninterrupted pattern, select a flat or relaxed fold.