Sheer Shades Buying Guide
Sheer shades combine the functionality of blinds with the style of fabric shades. These stunning window treatments have panels of fabric that homeowners can tilt to adjust light and privacy levels. They come in multiple colors and opacities, so everyone can get the perfect look for their home. Sheer shades have a modern, elegant look that suits a variety of home decor. To select the right shades, shop American Blinds' sheer shades collection.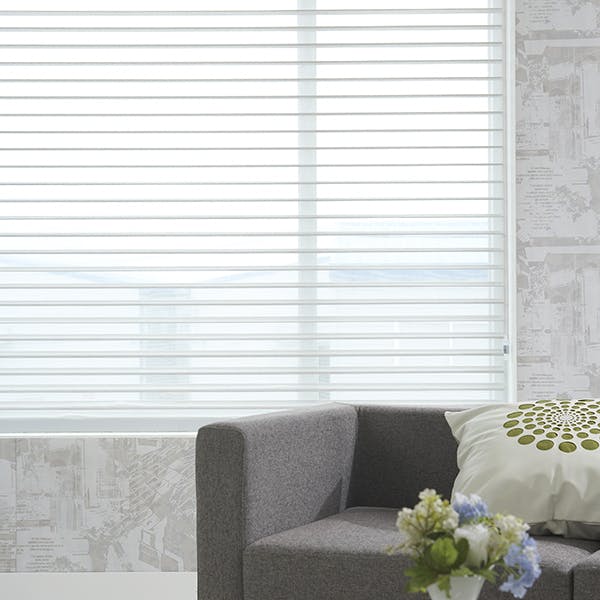 Sheer Shades Features
Sheer shades have a unique construction that provides homeowners with both bright and filtered light. These window treatments have fabric vanes that hang between two sheer fabric layers. Homeowners can adjust the angle of the vanes to get different levels of light and privacy. When the slats are open, the sheer panels gently diffuse light. Meanwhile, the closed slats can either block or filter light depending on the type of fabric a person selects. They also fold up into the headrail with ease. When a person raises them, the shades neatly bunch out of the way and provide an unobstructed view of the outdoors. Horizontal sheer shades offer the discerning homeowner a wide variety of design options. With colors ranging from cream to sage to charcoal, it's easy to find a shade that complements the interior decor. Some shades have glossy fabric that creates a luxe atmosphere, while others use woven linen to create casual, effortless style. The fabric slats also come in a variety of widths. Homeowners can select narrow stripes for an understated look or broad stripes for a bolder appearance.
Sheer Shades Upgrades
Homeowners who want to further enhance their windows have a lot of great features to try. Upgrade sheer shades with one or more of these add-ons:
Cordless lift: This lifting mechanism allows homeowners to raise or lower the shades by tugging on the lower rail. It's safer for children and provides a nice streamlined look.
Motorization: Replace all cords and other controls with motorized controls. People can use a remote to adjust their shades from across the room.
Decorative valance: Sheer blinds already come with a color-coordinated valance. For even more style, homeowners can upgrade to decorative styles that use fabric, wood, or other premium materials.
Magnetic hold-downs: This hardware upgrade adds more convenience to blinds. Instead of having to clip the sheer blinds into place, people can just press them against the magnetic backing.
Sheer Shades Considerations
It's important to consider personal needs and decor preferences when shopping for window treatments. Here are a few things every homeowner should know before settling on sheer shades:
When covering wider windows, consider a two-on-one headrail style. This design lets two sheer shades hang from a single headrail. It's a sleek look allowing for adjusting each individual side of the window covering.
Don't forget that many lighter fabrics allow extra sunlight to enter the room. Homeowners who prefer white or pastel sheer shades need to select an option with a room-darkening material if they occasionally prefer a darker environment.
Some patterns and textures look subtly different when the sun shines through the material. Always order samples and view them in the room where you plan to install them to gauge how they'll look on a daily basis.