Sheer Vertical Shades Buying Guide
If you want an attractive and convenient window treatment for large windows and doors, give vertical sheer shades a try. Sheer vertical shades have semi-rigid fabric vanes between thin panels of sheer fabric. Depending on how you adjust them, they can let in filtered light or block the sun's rays. Whether they are open or closed, vertical sheer blinds always look stylish. The soft, flowing fabric adds a distinctive touch to sliding glass doors and other large windows. To choose the right color and opacity for your home, explore American Blinds' selection today.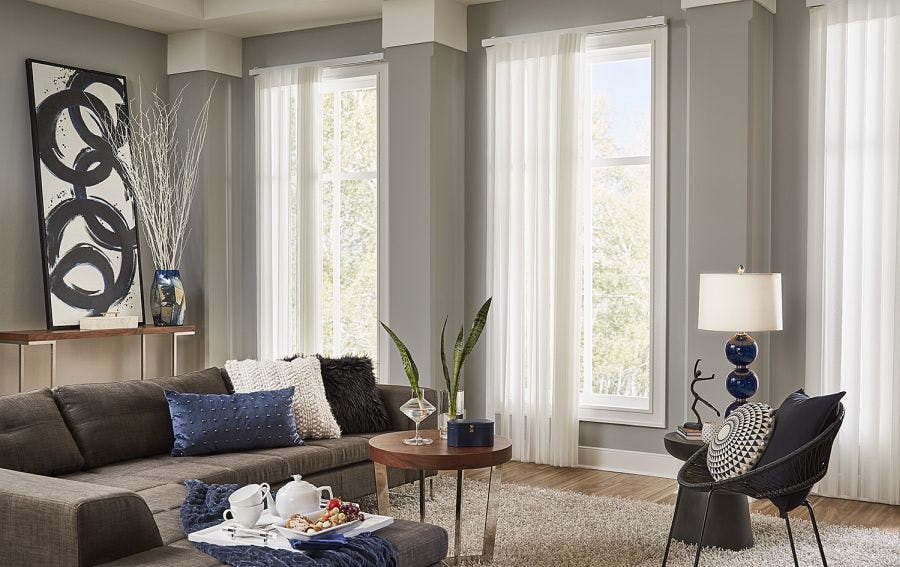 Sheer Vertical Shades Features
Sheer vertical blinds are one of the most stylish options available to people seeking blinds for a sliding door. The graceful folds of fabric highlight windows while coordinating with interior decor. To ensure that homeowners can always find a match, American Blinds offers a variety of fabrics. Sheer fabrics come in both classic solids and interesting patterns. Solid fabrics are available in a variety of appealing textures including matte, woven linen, and glossy, silky finishes. Whatever material a person picks, they can choose from all sorts of neutral, pastel, bright, and dark colors. In addition to being a lovely home decor accent, vertical sheer shades are also quite convenient. Though they might look like drapes, they work similarly to traditional blinds. The shades have panels of solid fabric that block light and panels of soft, sheer fabric. Homeowners can twist the controls to make all the solid panels line up and block out light. They also have the option of angling the solid panels to let the sheer fabric provide filtered light. Since vertical sheer blinds slide from side to side, homeowners can also open them to enjoy the view or step outdoors.
Sheer Vertical Shades Upgrades
When shopping for vertical sheer shades, don't forget that there are plenty of ways to customize these window treatments. Here are several options for enhancing the functionality and style of sheer blinds:
Split stack: Traditionally, sheer vertical blinds slide to either the left or the right when you open them. A split stack lets homeowners open them from the middle and create evenly sized stacks on either side of the window. This design is very helpful for large windows or doors that open from the middle.
Decorative valance: Adding a decorative covering along the headrail makes vertical sheer blinds even more elegant. Homeowners can choose from a variety of styles to find the option that suits their decor.
Extra vanes: Ordering extra vanes can expand the longevity of the shades. In case one breaks or gets stained, the homeowner can easily slot a new, matching vane into place.
Decorative binding: All fabric vertical blinds have a tidy hem at the bottom of the fabric. For additional flair, select a drapery-style edging that creates a defined border along the bottom.
Sheer Vertical Shades Considerations
Keep in mind that sheer shades offer several distinctive features. To select the right sliding door blinds for their home, shoppers need to take these facts into account:
When going with an outside mount, it can be helpful to add a few inches to the desired width of the shades. This helps cover any gaps along the sides of the windows.
Some shade styles let homeowners choose between a wand control or a chain and cord control. Chains often make it easier to manage large shades, but many people find wands are safer for children.
Since these shades use such sheer fabric, light shining through can affect the look of the material. To be sure a color or pattern will work for you, make sure to order free color swatches.