Skylight Shades Buying Guide
Though skylights are excellent at providing natural light, this style of window can sometimes be inconvenient. If your skylights are causing glare on electronics or keeping you from getting a good night's sleep, try a skylight shade. These shades feature light-blocking or light-filtering material and fit snugly against the window. They give homeowners control over their light levels while complementing the home's unique architectural features. To find the perfect color and opacity for your home, explore the American Blinds skylight shades collection now.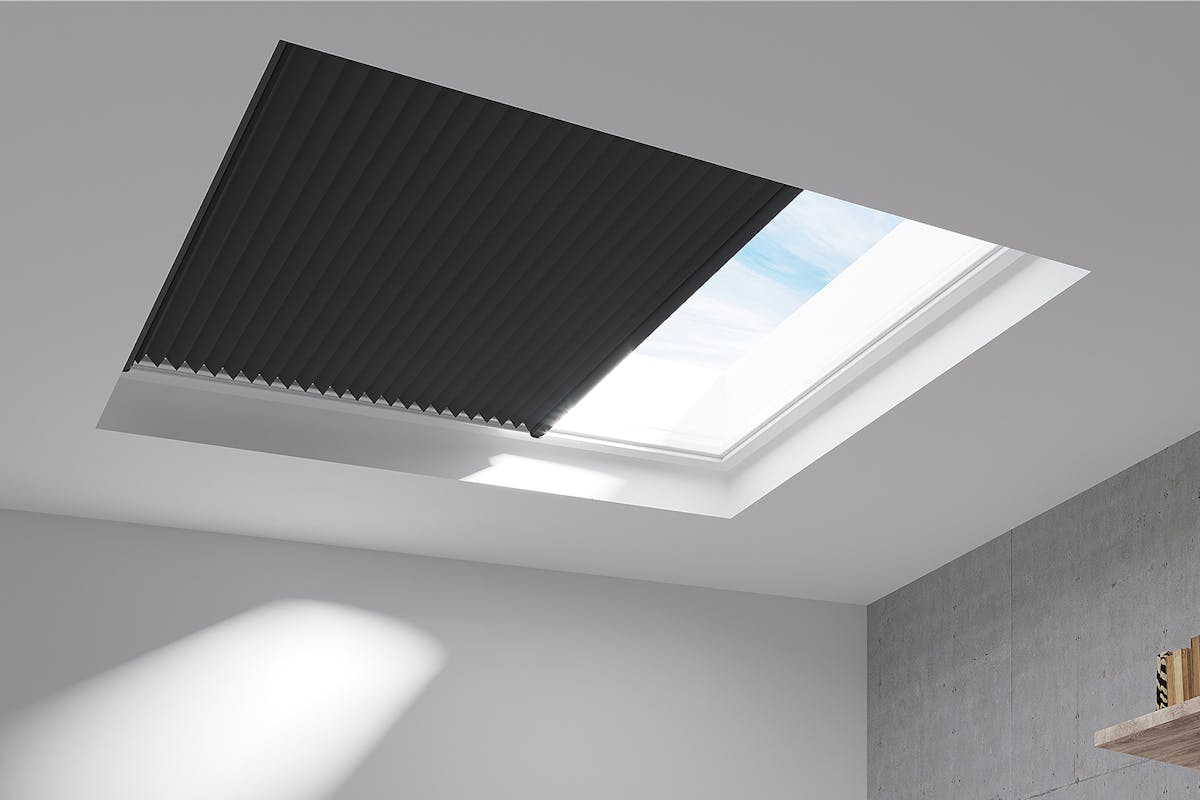 Skylight Shades Features
Skylight shades come with a variety of light control and privacy levels. Blackout shades block sunlight completely, so homeowners can sleep well or watch a movie with ease. Light-filtering shades allow reduced levels of light into a room. They keep living spaces from being too bright while still letting in some natural light. Once they're in place, skylight shades slide back and forth, so homeowners can further customize light levels. When you want to let in more light or see the sunset, the shades fold out of the way to reveal your view. These shades have a unique design that works with the diagonal angle of skylight windows. They consist of a frame that firmly holds a pleated cellular shade against the skylight. The honeycomb cells of a skylight shade are beneficial. They insulate the window, so the sun doesn't overheat the home. Some styles also offer antimicrobial features that make it easier to clean the shades. f they desire, homeowners can order skylight shades that perfectly match the traditional cellular shades on their other windows. All the colorful skylight blinds available at American Blinds provide plenty of other exciting design options. Tasteful neutrals create a discreet look and easily coordinate with other decor. Those who want to call attention to their skylights can pick soft pastels or bold jewel tones.
Skylight Shades Upgrades
Though skylight shades are a fairly simple window treatment style, they still come with some customization options. Homeowners can upgrade their shades with one or more of these features:
Control pole: A control pole makes it easier to adjust hard-to-reach windows. This extendable device lets homeowners open or close shades without needing a ladder.
Double cells: Some premium styles come with two rows of honeycomb cells within the shade. This enhances the skylight blinds' insulating properties.
Designer colors: For an extra touch of luxury, consider upgrading to a high-end finish. These shades have subtle textures and appealing colors that make shades even more stylish.
Skylight Shades Considerations
Remember that skylight blinds are a little different from regular window treatments. There are a few things homeowners need to know before selecting a skylight shade style.
Humidity can damage cellular shades, so these shades might not work for skylights in humid areas like the bathroom. Selecting antimicrobial coatings can help keep moisture from causing issues.
Light-filtering shades may show silhouettes when the home is lit up. People using these shades for privacy will benefit from blackout shades.
When ordering, enter the window's dimensions, not your desired shade size. American Blinds will size the shades to custom-fit your window.