Solar Shades Buying Guide
Love the view but not the sun's harsh rays? Solar shades are the ideal solution. These shades use panels of fabric to help filter light, and they're beneficial for keeping indoor temperatures comfortable and reducing glare on furniture and furnishings. In addition to enhancing homeowners' comfort, the sleek design of these shades tastefully complements decor. Browse the American Blinds collection now to explore all the appealing colors and textures of solar shades.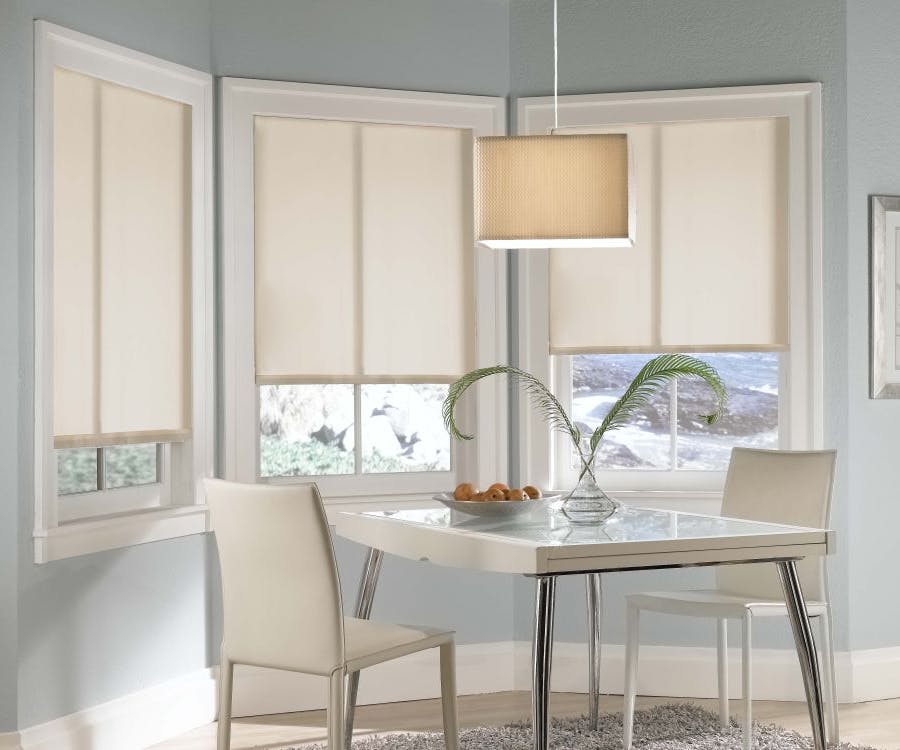 Solar Shades Features
Solar shades provide a broad range of light filtering features. Depending on the brand you select, your solar shades may have an opacity of somewhere between 3% to 14%. All levels help to keep the sun from warming up the house and fading home furnishings. However, opacity level does affect the level of light in a room; a higher opacity number means that the shades let in more light. These sheer shades are perfect for places where homeowners want bright, natural light but don't want unpleasant glare distracting them. Lower opacities block more light and provide more privacy. It's possible to see shapes and silhouettes through the shades, but details may be fuzzy. These dimming shades offer a darker environment ideal for napping or watching a movie. Solar shades have a slim panel of material that rolls up when homeowners raise the shades. The fabric comes in plenty of stylish colors, ranging from cream to charcoal to burgundy, and many styles are further enhanced with interesting textures and weaves, which add subtle patterns to the shades and create a warm, inviting look.
Solar Shades Upgrades
When shopping for solar shades, look closely at all the potential features. If desired, homeowners can select add-ons that make their solar shades even more beautiful and practical.
Cordless: Standard shades usually have a cord or chain that raises and lowers the shade. Homeowners who prefer a simpler and more child-friendly design may want to select cordless options. These eliminate all cords and let people adjust the shades with a single touch.
Decorative valance: Valances encase the shade's control mechanism in a sleek case. There are plenty of different valance designs available, so it's easy to coordinate with a variety of decor styles.
Motorization: Motorization syncs solar shades with a remote. This upgrade makes it easy to adjust shades without even having to get up.  
Magnetic hold-downs: When installing shades on doors, it's a good idea to include hardware upgrades. Magnetic hold-downs keep the bottom of the shade in place as the door moves about.
Solar Shades Considerations 
Since these shades are slightly sheer, they're not ideal for total privacy, especially in a bright room at night when people outside can see into the home. If privacy is a concern, homeowners may want to select a thicker material or layer their shades with curtains.
Solar shades can have gaps at the edges when they're mounted with an inside mount on a shallow window. For the ultimate light control, use light blockers along the edges of the shades.
Some woven fabrics develop a more distinctive pattern when the sun shines through. To see a shade's true color, homeowners should order samples and view them in bright and dim lighting.