Faux Wood Shutters Buying Guide
Interior shutters are consistently one of the most popular choices for window treatments. The angled slats provide adjustable light control, while the classic design complements all types of decor. If you love the look of interior shutters but prefer an inexpensive option, faux wood is an excellent choice. Wood-look shutters mimic the shape and texture of traditional wooden shutters while being more durable and budget-friendly. They come in many beautiful finishes and appealing designs, so homeowners have plenty of great designs to choose from. Shop American Blinds' selection of faux wood shutters to find the perfect style for your home.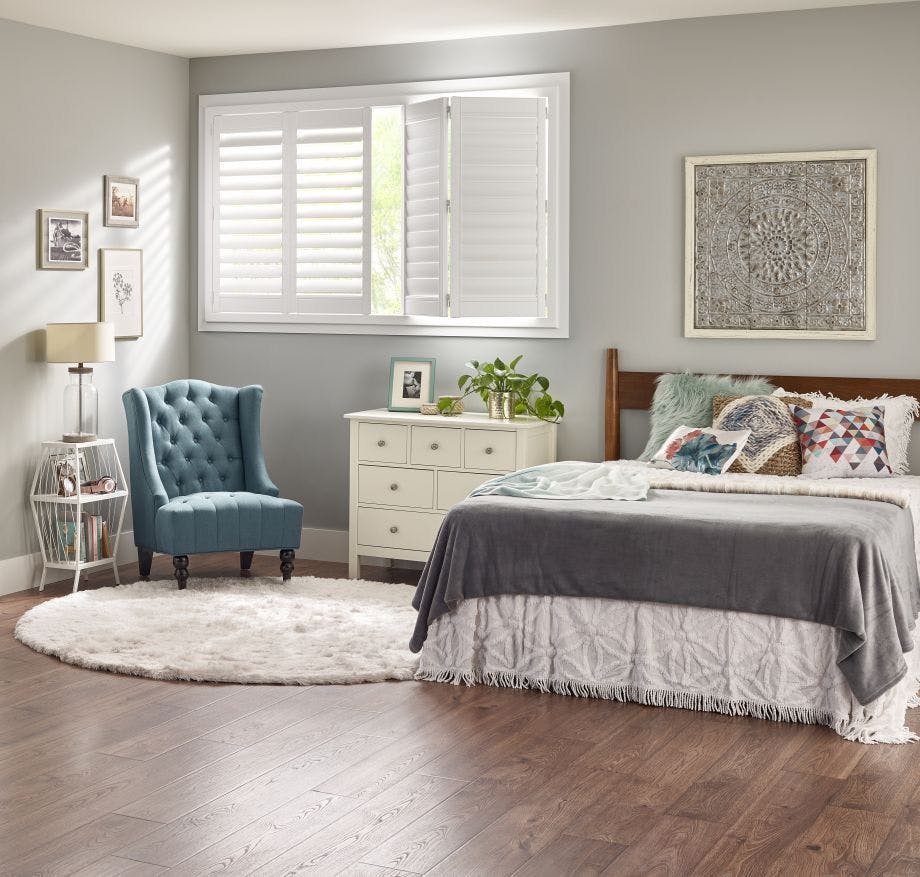 Faux Wood Shutters Features
Faux wood is a versatile material, so these shutters come in many shapes and styles. Whether your windows are big, small, wide, or narrow, shutters will always look great. There are even shutter designs that fit into place over patio and French doors. With their clean lines and simple designs, interior shutters easily complement every type of home decor. They look equally appealing in a formal living room or a boho chic bedroom. Since they come in so many hues, you can easily select a finish that matches your home. Choose from tasteful neutrals like white, cream, tan, gray, and black. Interior shutters mount onto the window frame to create a durable, semi-permanent window treatment. Each shutter has angled slats that homeowners can open or close to let in the perfect amount of light. They also have movable panels that swing open to reveal the view or close to provide privacy and light control. Faux wood shutters offer many helpful features not necessarily found with natural wood. A big plus for many homeowners is their durability. Sturdy faux wood does not warp in humid environments or discolor when exposed to UV rays. When you get faux wood shutters, you can be confident your windows will look great for years to come.
Faux Wood Shutters Upgrades
Interior shutters come with plenty of interesting upgrade options. Homeowners who want to make their shutters even more practical or stylish may want to add these features.
Geared tilt: Also called a hidden tilt, this upgrade hides all controls behind the shutter. It removes the front tilt bar to create a more streamlined style.
Multi-panel designs: There are many ways you can configure your shutters to open. In addition to swinging left or right, individual panels can operate independently or move on a hinge with their neighbors. Some of the more complex options cost a little more, but they ensure that you get precisely the look you want.
Split tilt rod: Use this upgrade to divide your louvers into top and bottom halves that operate independently. This is beneficial for fine-tuning your light and privacy levels.
Decorative valance: Some windows and doors can benefit from adding a valance. This decorative headrail adds extra distinction to the faux wood shutters.
Faux Wood Shutters Considerations
Faux wood interior shutters have some unique characteristics to be aware of. Here are a few things you need to know when shopping for faux wood shutters.
Faux wood is somewhat heavier than real wood. To get the best results, it is a good idea to have professional help during installation.
Not all styles of windows will work with interior mount shutters. For shallow windows or windows that tilt open, outside mount shutters may be necessary. 
Don't forget that slat sizes greatly impact the shutters' final look. Wider slats let you see the view more clearly, while narrow slats provide more privacy.