Wood Shutters Buying Guide
For centuries, wooden shutters have been one of the preferred window treatments. These shutters mount over the window, allowing you to control light and privacy levels effortlessly. The best thing about interior shutters for many homeowners is their elegant style. This timeless design adds grace and class to a home's interior. Versatile wood shutters come in many finishes, including solid colors and wood stains. Explore our collection at American Blinds to find your favorite style and order free color samples.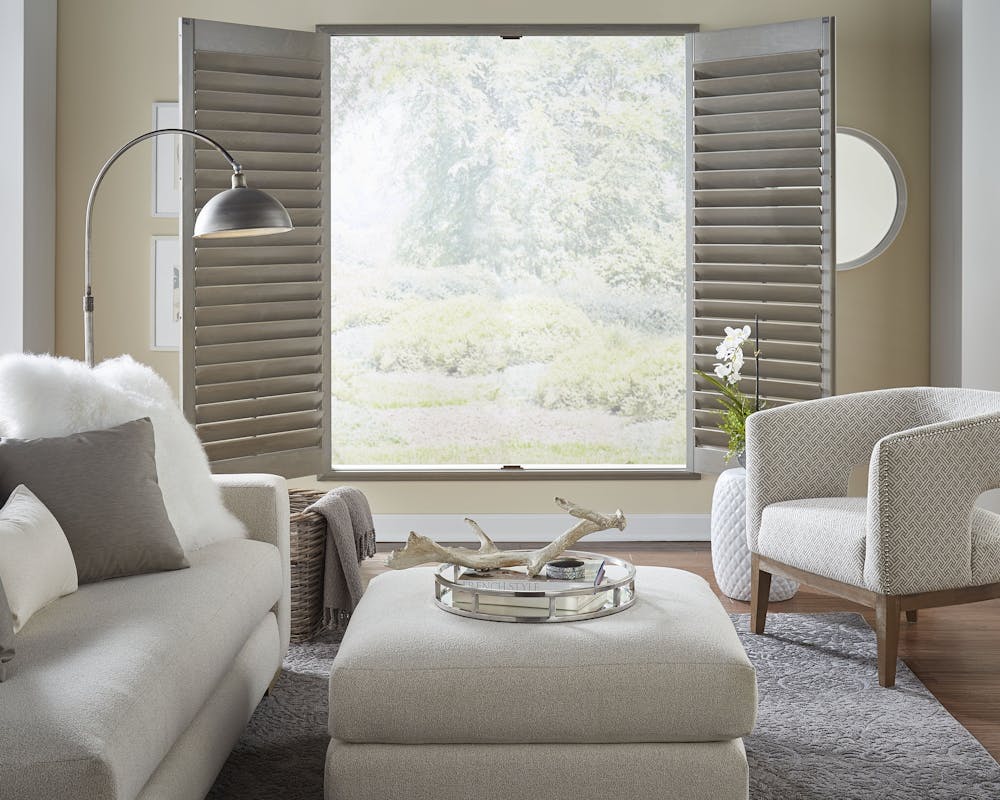 Wood Shutters Features
Wood interior shutters consist of multiple wooden panels mounted on a frame. Each panel has a row of slats that homeowners can angle to get filtered light without excess glare. Meanwhile, closed shutters provide plenty of light control and privacy. Shutter panels also swing away from the window entirely. This allows homeowners to bring in plenty of natural light and enjoy an unobstructed view. The classic style of wooden shutters adds plenty of visual appeal to windows. They complement a variety of design styles while always looking tasteful and attractive. With plenty of colors to choose from, it is easy to find shutters that look great with your unique decor. Stains like oak, maple, and cherry create shutters that coordinate with hardwood floors or furniture. Homeowners who want to match the shutters to their interior design can choose from subtle neutrals like gray and white. Wood shutters certainly look fantastic, but they do more than enhance a home's style. They are also popular because they improve the comfort of your home. Since wood is such a thick, dense material, it provides plenty of insulation. Homeowners can use interior shutters to keep their homes warmer in the winter and cooler in the summer. They even help to reduce outside noise levels. Ultimately, adding wooden shutters helps turn your home into an elegant, pleasant retreat.
Wood Shutters Upgrades
Since they're a high-end window treatment, wood shutters provide many customization options. Homeowners can personalize their windows with one or more of these helpful features.
Hidden tilt: Traditionally, wood shutters have a control rod affixed to the slats. Hidden controls put the tilt mechanism behind the shutters so that the windows look more streamlined.
Cafe-style: These shutters leave space along the top of the window. They're a great way to bring in more natural light without sacrificing privacy.
Premium finishes: Make this luxurious window treatment even classier with a premium finish. Options like mahogany or cherry stain add an extra flair to window shutters.
Decorative frames: There are many different styles for the frames that hold the interior shutters in place. Designs with decorative beveling or vintage-style carving make shutters look even more elegant.
Wood Shutters Considerations
To make sure wood shutters are right for your home, you'll need to consider these factors.
Make sure to measure diagonal distances between window corners when ordering. This ensures shutters will fit even if windows aren't perfectly level.
Excess humidity or heat can make wood warp and crack, so wood shutters don't always work in kitchens or bathrooms. Faux wood can provide a comparable look while being more moisture-resistant.
Inside-mount shutters can keep certain types of windows from opening properly. Homeowners with windows that tilt inwards will need outside-mount wood shutters.