Blinds and Shades for Difficult and Specialty Windows
Find Window Coverings for Specialty Shapes and Specific Needs
Choose Your Window Type or Functional Concern
Confused as to which blinds are best for an oddly-shaped window? Do you have a unique window covering situation? American Blinds has several solutions for you. Remember, whether you are designing a single room or the whole home, always start with the most difficult window first as options may be limited for your special situation. This simple idea will save you plenty of time and potential disappointment when treating specialty windows.
French Doors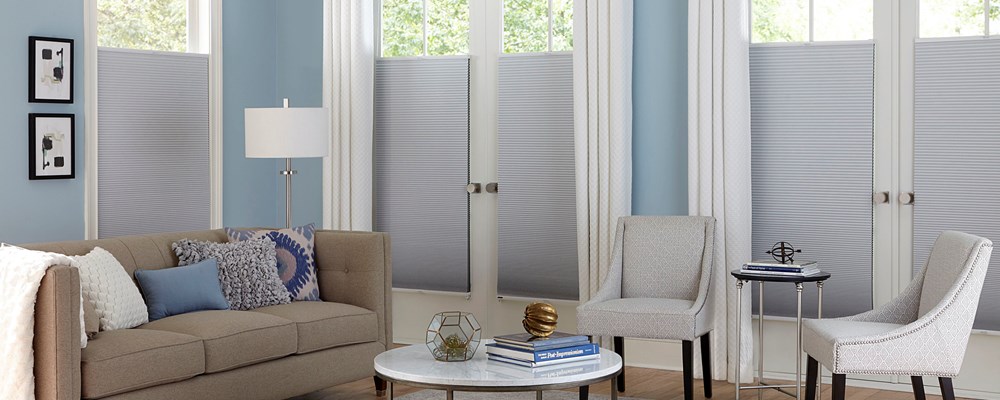 Product Shown: Bella View Legacy Blackout Cellular Shade
View Product
Nearly any product will work for French doors. One main rule to follow is to keep a uniform look - you should keep it in a consistent style as the other products covering your windows.
Take special considerations when ordering a traditional blind. Take note of whether your door has a knob or lever handle. A larger slat style may not be able to fit behind a lever handle and could affect the way a door opens or closes depending on your configuration. Instead, choose a smaller slat option for the door. If you're going for a more modern look, single cell shades are slim enough to accommodate for handles and stack small so they only cover a small part of the door when raised.
It is important to start with covering the door first before moving to the windows as slat colors and valance styles will vary by manufacturer - and you do want to maintain a consistent look.
To keep blinds or shades from knocking into your door every time you open and close it, select hold down brackets if available. This will keep the French door covering quieter and protect the finish, but will also prevent you from raising your blinds.
If your corded product features a continuous loop upgrade, this is perfect for a door because standard pull cords could become a tripping hazard in the doorway or get caught outside when the shade is lifted. The cord loop will keep everything under control in a streamlined look. Be sure to place the control on the hinge side of the door for smoother operation.
Windows with Great Views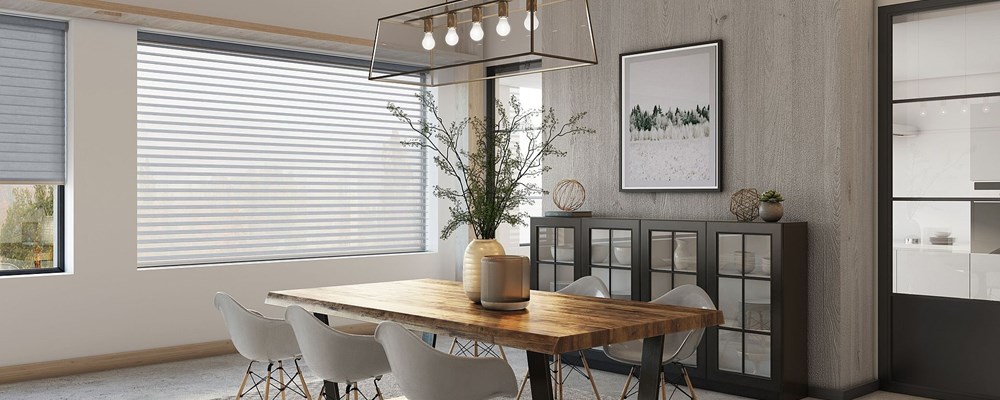 Product Shown: Levolor Light Filtering Sheer Shading
View Product
Use shades to never lose sight of the beauty outside your window. Available in a variety of opacities, solar shades or sheer shades will allow you to see through your window while cutting down on direct sunlight and heat.
Need a bit more flexibility when it comes to privacy? Cellular and roller shades have the smallest stack at the top of the window opening, giving you the best view when they are fully open. Consider the top down/bottom up function in cellular shades to give privacy at the bottom of the window but see a beautiful view out the top of your window.
Bay Windows
Product Shown: Levolor Visions 2" Faux Wood Blind
View Product
Bay windows can be outfitted with nearly any window treatment. You will want to take special considerations when measuring a bay window to make sure your chosen product has the proper clearance in the corners where the windows meet. Please review our bay window measuring guidelines — or call a friendly design consultant for measuring advice.
Windows that are Hard to Reach
Product Shown: Bali DiamondCell Light Filtering Cellular Shade
View Product
When selecting blinds for difficult to reach windows, consider motorized remote controls for ease of use. Never choose a cordless lift for high windows, as you'll need a ladder each time you want to adjust them.
Large or Wide Windows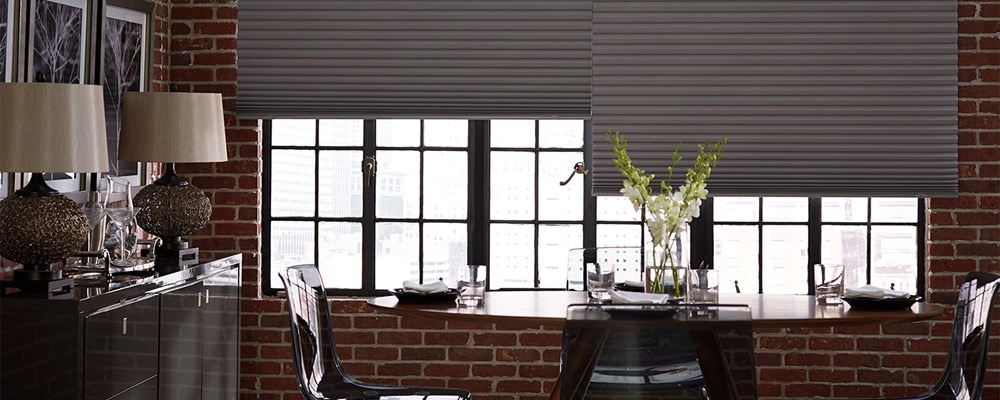 Product Shown: Bella View Legacy Blackout Cellular Shade
View Product
The weight of the blind or shade may make it difficult to raise or lower across large windows. Heavier blinds also put excess stress on the cords, which increases the risk of breakage. We have several solutions to this problem:
Upgrade the lift: raising and lowering wide shades can be problematic for the children or the elderly. A continuous loop lift made out of a heavy-duty material makes it easier to lift and lower larger shades. Remote controls are also a great solution for larger windows.
Multiple blinds: multiple blinds, each with its own set of controls, mounted on a single headrail. You want to ensure the measurements of each blind match the layout of your windows. For example, a set of 3 windows with one large in the middle and two smaller ones on the side would be ordered with the 3 on 1 headrail option with the measurements matching the window divisions.
Separate blinds: two separate blinds mounted side by side, with one valance that spans the entire window. You will have to contact a design consultant directly for this option.
Lighter options: Sheer shades, cellular shades, and roller shades can often go wider than a typical blind because the composition of the fabric is lighter.
Vertical solutions: Vertical blinds or shades can be an easy solution for a wide window - they aren't only for sliding doors.
Sliding Doors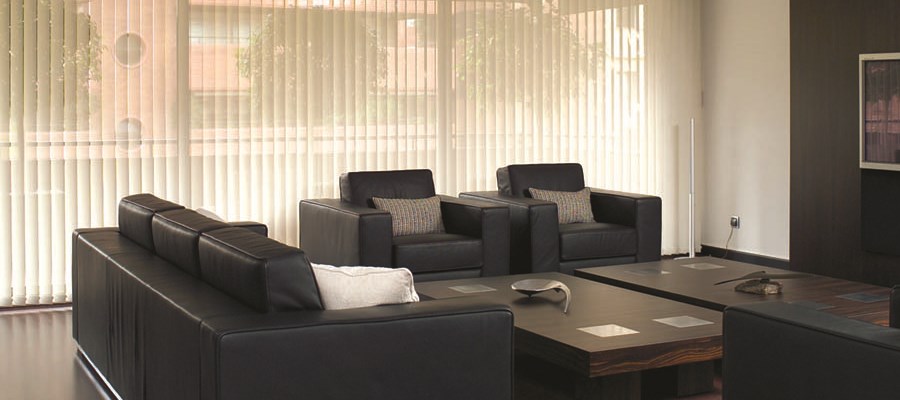 Product Shown: Bella View Trademark Fabric Vertical Blind
View Product
Vertical blinds are a versatile choice for sliding doors and are available in a wide variety of fabric and color options. Vanes can be tilted open or closed to control the amount of light in the room. You can also move them completely out of the way, creating a wide open view. While fabric options are beautiful, PVC and vinyl are the most resistant to staining for homes with kids and pets.
Sheer vertical blinds combine soft sheer drapery with a traditional vertical blind, creating a perfect solution for sliding doors. This allows you the flexibility to see the outside view, letting in natural light and later achieving a privacy by closing the vanes.
Fabric sliding panels are vertical strips of fabric or sheer solar material that cover your window for a clean, modern look. Choose from a variety of fabric options and add a decorative valance for a finished look.
In all of these cases, if you don't want the blinds to stack on top of the glass of the door and block your view, ask a design consultant who can discuss the best size to order for a clear, open view.
Harsh Sunlight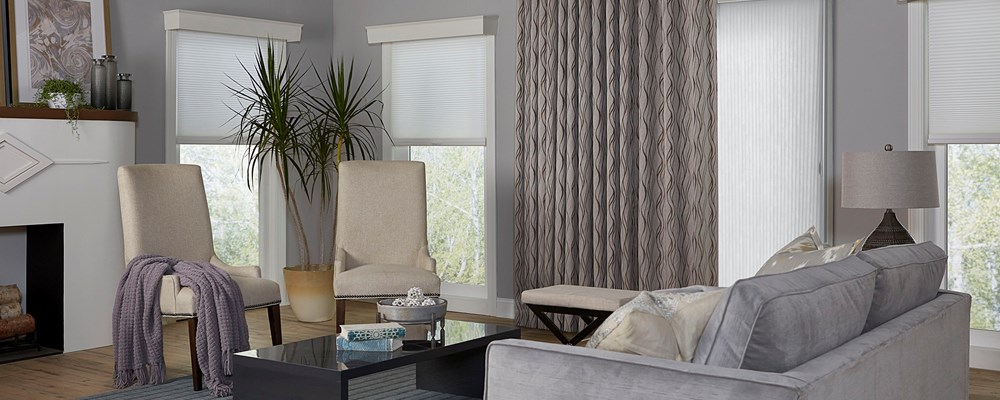 Product Shown: Bella View Prestige Light Filtering Cellular Shade
View Product
If cutting down on direct sunlight while maintaining a bright, cheery room is important to you, a light filtering honeycomb or roller shade will do the trick. Colors and textures will add a lot of personality to your living space, while giving you privacy and cutting down on unwanted light without making your room dark.
If darkening the room is high on your checklist, consider a blackout honeycomb shade that's available in a wide range of colors. You could also consider a blackout roller shade to darken the room, which also come in a variety of colors and patterns. With roller shades, consider whether you are comfortable with the roll being exposed at the top of your window, or if you would like to cover it with a decorative valance. This is important, as in most cases, since the reverse side of the shade is white and could contrast with your chosen color.
Solar shades will protect your furniture and interiors from harmful UV rays while maintaining a great view outdoors.
Street-Facing Windows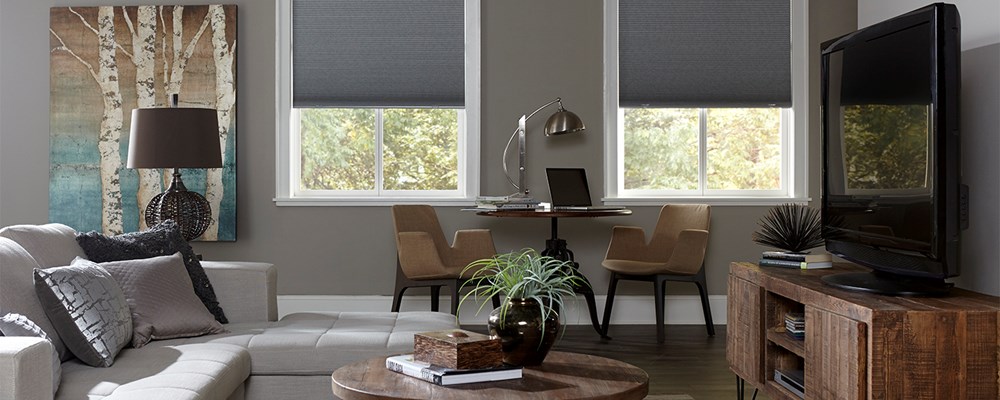 Product Shown: Bella View Legacy Blackout Cellular Shade
View Product
One thing homeowners don't often think about when ordering window treatments is how they look from the street. If you choose different treatments for different rooms, they won't have a uniform appearance when standing outside of the house.
A great solution would be honeycomb shades. Many of these shades have white backings and colored interior-facing fabric, letting you color-coordinate while still maintaining a nice appearance from the street.
Humidity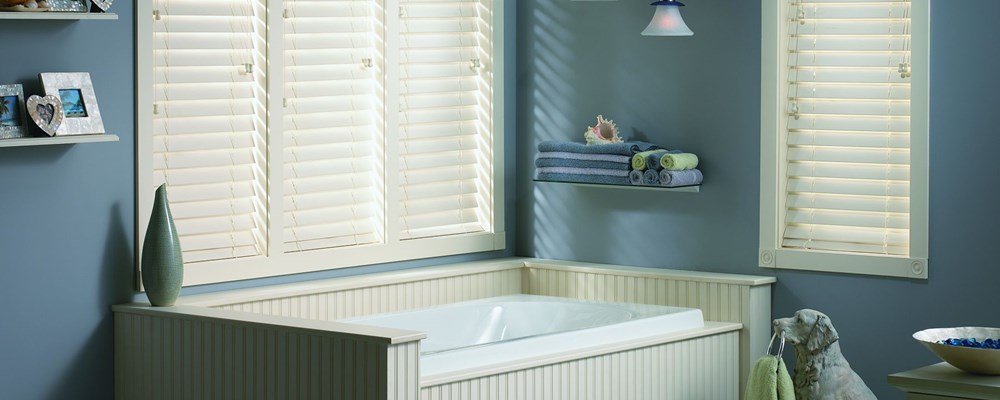 Product Shown: Bella View Trademark 2" Faux Wood Blind
View Product
While any high-quality product should be resistant to humidity and moisture, the best option for high-humidity areas like bathrooms and kitchens are faux wood blinds. Their durable, warp resistant synthetic material looks just like wood, but can stand up to high heat and wet conditions without the risk of cracking.
Skylights

Product Shown: Bella View Legacy Motorized Light Filtering Cellular Skylight
View Product
Skylights can let in a great deal of sunlight, but they can also be difficult to reach. Cellular shades offer extra insulation with their lightweight material and can also be operated using an extension pole. If your reach is too short even with a pole, you may want to consider a motorized cellular skylight with a solar kit. This would allow you to keep two feet safely on the ground without pulling out high ladders or scaffolding to change batteries seasonally.
Arches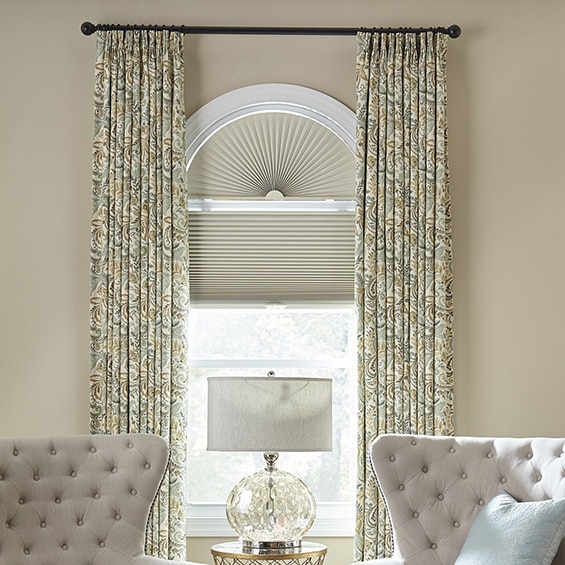 Product Shown: Bella View Prestige Blackout Cellular Shades
View Product
Arched windows are notable, attractive, and unique. These windows are not as difficult to cover as you may think. We offer several different types of window treatments that can be made to exactly fit your window opening. Cellular Shade Arches are available as stationary or operable so you can control the amount of sunlight and privacy you need. Other popular choices for covering arch windows are pleated shades and composite wood arches. Shutters can also be custom fit for your arched window by speaking with a design consultant.
Angle Top or Trapezoid Windows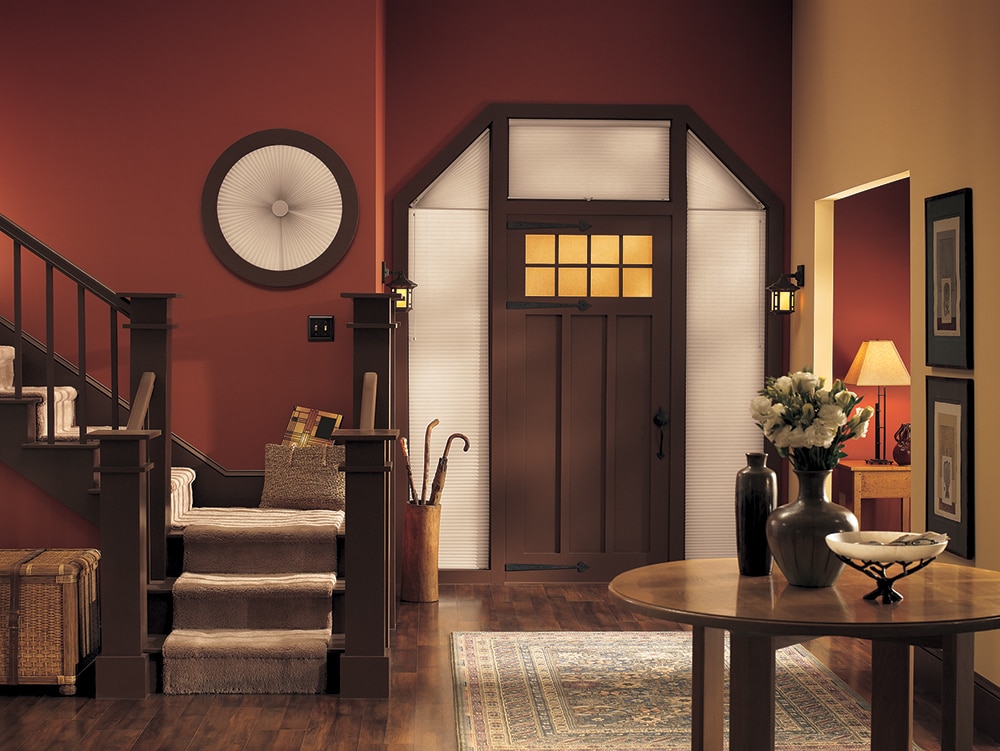 Product Shown: Bali Light Filtering Angle Top or Bottom Cellular Shade
View Product
Tricky angled windows can be easily covered with angle top cellular shades. A variety of colors and patterns allow you to match any décor. A drawback is that the shade will only lift to the height of the shortest side. If this is a deal breaker for you, consider a custom wood shutter which has slats that can be tilted open or closed. A design consultant can assist you with the design and quote it for you.
Wear and Tear Areas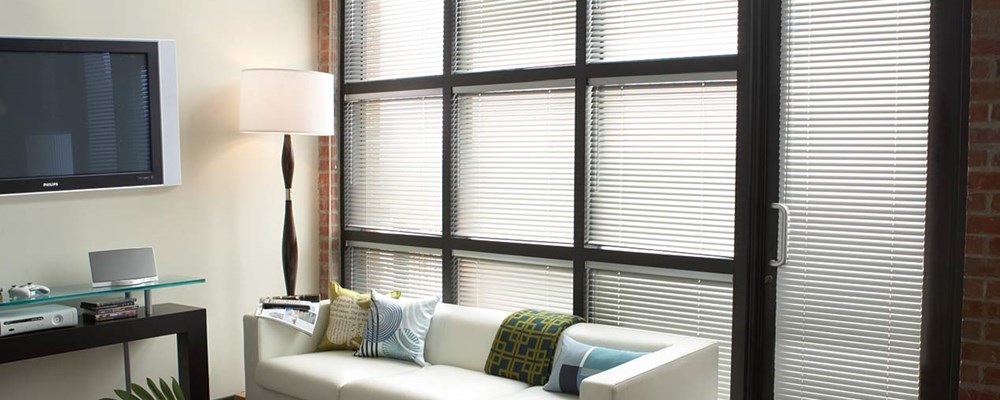 Product Shown: Levolor Mark 1 One in. Mini Blind
View Product
If you have a particularly high traffic area of your home where your window coverings will get a great deal of use, it's best to go with a durable, long-lasting product. 8-gauge aluminum mini blinds are particularly durable and can withstand kids, pets, and a lifetime of use. Create an updated look by using a 2" slat. This wider slat gives a sleek simple alternative to the traditional aluminum blind. In addition, faux wood blinds are extremely resistant to damage - and happen to be easy to clean as well. A collection of smooth and textured whites and beautiful wood-grain prints give you the look of stained hardwood with the durability of faux wood.