How to Choose Window Treatments
So, you've made the decision to order new window treatments. Congratulations! Now, if you've done a bit a research, it may be a bit overwhelming as there are so many different types of blinds and shades. No worries… this guide will help you choose the best window treatment for your home.
How to Choose
First, let's consider blinds vs. shades. The easiest way to describe the difference between the two is that a blind traditionally has louvers that you can tilt open and closed to see through the product. A shade is a solid piece of fabric that you would need to lift and lower for a clear view out the window.
Next consideration, what room is this going in? How much privacy do you need in the room?
Think about the how much light you want in the room. Do you want the light to gently glow through the product, or would you prefer near darkness?
Now, it's time to think about design aesthetic. What is your color palette? What look are you trying to achieve? What type of material do you prefer? There are products made of fabric, wood, PVC vinyl and aluminum. Which one will be right for the feel and look you are trying to achieve in your room?
Is it difficult to maintain a comfortable temperature during the summer or winter? If so - an insulating window treatment should be high on your list.
Other considerations include - Who will use the product? How long are you planning to live in this home? Do you have small children or pets that live in or visit the home? What concerns do you have with safety?
Are any of your windows an unusual shape such as arched top or angled? Are you windows wide or have multiple window openings within the window frame?
It's important to note that once you have compiled your list of what is important to you - break them down into "must have" versus "like to have." The reason - not all features and benefits are available in all products, so it is important to highlight what is important to you. Now that you have the list - see below for what will address your needs and wants and choose the right type of blinds and shades for your room.
Horizontal Blinds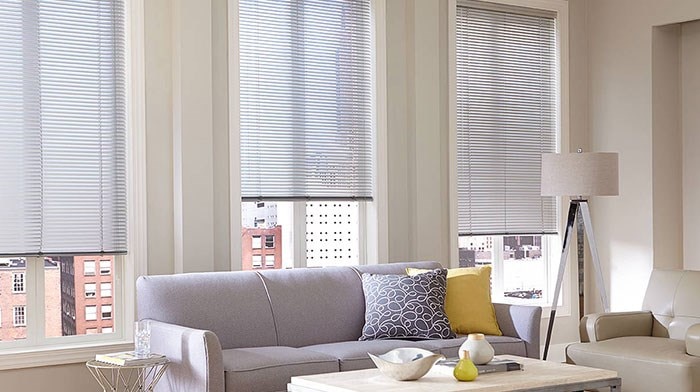 Blinds come in a variety of materials: wood, faux wood, aluminum, vinyl and fabric. Wood blinds are great for clients who are want light control and traditional design with lots of options in colors, textures and customizable options. Wood blinds are lighter than faux wood blinds - making them easier to lift and lower. Faux wood blinds are a budget-conscious option that is easy to clean and a great solution for damp areas such as kitchens and bathrooms. Aluminum and vinyl blinds are lightweight and generally economical option. Fabric blinds will gently filter light into the room while providing privacy. Fabric blinds are easy to clean, resistant to dust and water with an anti-scratch finish.
Slat or louver size can change the look and feel of a room. The most common slat size is 2". If you desire a more modern view and you have deep set windows, choose a 2.5" slat. The 1" mini blind and 1/2" micro mini blind is a bit more of a "dated" look that you will see in older homes and office buildings. It is important to check the available depth in your window opening to see if the headrail and accompanying valance will fully fit within your window opening. Several models of blinds have "valance returns" to complete your finished look.
There is usually a choice in opening and closing the slats - using either a wand or a cord. The wand is a more traditional look, while the cord tilt is more durable. If your window is high or out of reach, consider a remote-control tilt. Some blinds will offer a cord loop control. This is an excellent choice for larger windows or those with limited dexterity as it makes the blind easier lift and lower. For a cleaner, streamlined look - consider a cordless lift - as there will be no unsightly dangling cords when you lift the blind.
Here are a few design details you may not have considered. Some models offer routless (privacy) slats and cloth tapes. Both have a similar function of blocking light from passing through the braided ladders when the blind is closed. Say goodbye to that annoying reflection on your TV screen or bright sun beams that blind you in the eye before you've had your first cup of coffee. Another routeless slat benefit - louvers can be removed individually for cleaning. Cloth tapes provide a decorative touch to coordinate with your décor. Larger windows can be covered as multiple blinds on one headrail. This has a cohesive valance at the top of the window with individual controls for each blind, avoiding the wear and tear that a single heavier blind will put on the lifting mechanism. Be sure to match the split with the number of windows in the framed opening. For example, a 3-panel window would look best with a 3-on-1 headrail blind or shade.
One thing to keep in mind with any horizontal product is the stack height. When lifted, this style of blind will take up quite some room in your window. Never consider using this product over a sliding glass door because you will have to stoop under the blind to use the door.
Shutters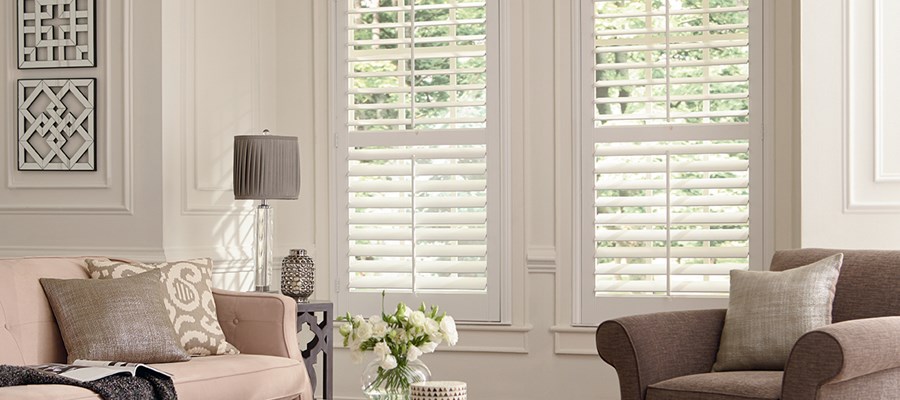 Shutters are an elegant and practical way to add warmth and sophistication to any home. They can be custom made to fit any window shape, including arches, circles and octagons. Their energy efficient design will not only save you money but also add value to your home. An occasional dusting will keep them looking great for years and cord free design is great for a home with children. Shutters are the perfect balance of design and function, providing a timeless look that will never need to be changed.
High quality kiln dried wood alleviates warping, and tongue and groove joints add strength and durability. A wide range of paints and stain colors are available with wood shutters. Composite and faux wood shutters provide the charm of traditional shutters, but are more affordable and easy to maintain. A wide range of louver sizes and frame styles provide a decorative look to match any style and preference.
While many people love the look of shutters mounted inside the window opening, wall mount shutters are easier to install as most windows are not consistent in size. Face mount shutters, also known as outside mount, give a beautiful frame to windows that don't have decorative trim. If your windows tilt in for cleaning, and you want to maintain that functionality, an outside mounted shutter is a must.
Horizontal Sheer and Dual Shades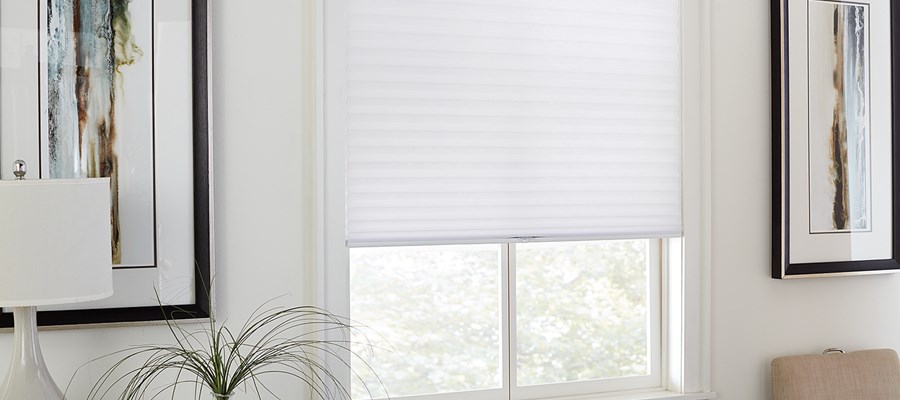 Horizontal sheer and dual shades are great products that bridge the gap between blinds and shades. These modern window treatments are made of a lightweight fabric with functionality that allows you to position the vanes to "see through" the shade, while maintaining an element of privacy.
Horizontal shades have soft fabric vanes suspended between sheer knitted facings that tilt to allow light in and close for privacy. Dual Shades, also known as "zebra shades", have alternating solid and sheer stripes. When the sheer stripes are aligned, you can see through the shade; when overlapped they give privacy.
Both styles of shades can be retracted into the headrail, giving a completely clear view through the window. These shades are available with light filtering or room darkening options for better light control. A remote control makes it easy to use, and a variety of color options will make it easy to complement your décor.
Cellular/Honeycomb and Pleated Shades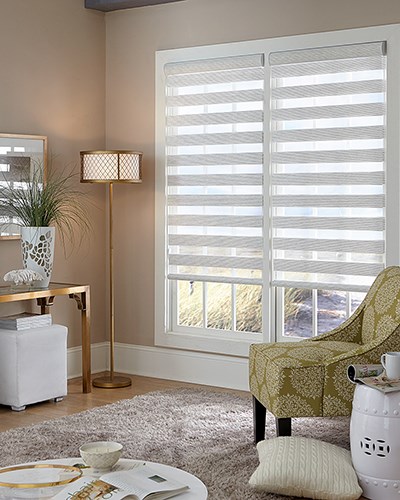 Cellular shades have multiple layers of fabric bonded together to make honeycomb-shaped cells. Air is trapped within the cells to provide energy efficiency. More layers of cells provide more insulation while choices of different pleat sizes can enhance the look of the window as well as increase insulation.
Pleated shades give you the modern look of cellular shades at a more economical price. They do not offer the same insulating benefits.
Both cellular and pleated shades are available in a variety of colors and textures ranging from basic neutrals to bold and bright in both light filtering and room darkening options. No matter the color you choose, most often white will be the color facing the street for a uniform look from the curb. Flexibility of light control make these shades a popular option. Cordless lifts make it safer for children while motorized shades are a great solution for high windows. Top-down/bottom-up shades allow natural light to flow through the top of the window while maintaining privacy on the bottom, making it a perfect solution for bedrooms and bathrooms that need more privacy. This option is also great for homes that are close to neighbors or well-traveled streets. When the shade is fully raised, it takes up only a few inches at the top of the window.
Sun up/Sun down, Day/Night, trilight and transformations are all options that combine two fabrics in one shade. Choose light filtering and blackout fabrics for privacy all the time. Opt for sheer with either a light filtering or blackout if you want a beautiful view with a bit of UV protection.
Oversized and odd shaped windows can usually be covered with cellular shades. Angle top windows, arches and skylights easily coordinate with the rest of your room.
Roller and Solar Shades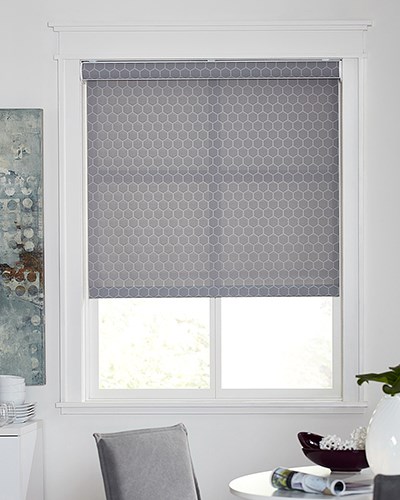 Clean lines and modern textured designs make roller and solar shades a popular choice for a modern or minimalist décor. Materials range from fabrics to vinyl - lending to a range of décor styles including transitional, French country, shabby chic, Hollywood glam and bold eclectic. Fabric roller shades are popular for the texture it brings to your room, while easy-to-clean vinyl shades come in a myriad of colors and patterns.
Achieve privacy with light filtering shades that allow a soft glow or blackout to prevent all light from penetrating the shade. If you have a beautiful view that you want to preserve, and privacy isn't a concern - a solar shade may be right for you. Solar shades block bright sun and allow you to still see that view to the backyard or out your high-rise condo window.
When the shade is fully raised, it takes up only a few inches at the top of the window. Tall windows benefit from cord loop controls, making raising and lowering shades a breeze. Cordless lifts are available to make the shade safer for children. A remote control allows operation of multiple windows at a time with the click of a button.
It is important to note with roller shade products - there is a slight gap between the edge of the fabric and the side of the window to allow proper function of the roller mechanism. If "cave" quality darkness is important, this would not be the window solution for you, unless paired with drapes or side light gap blockers.
Roman Shades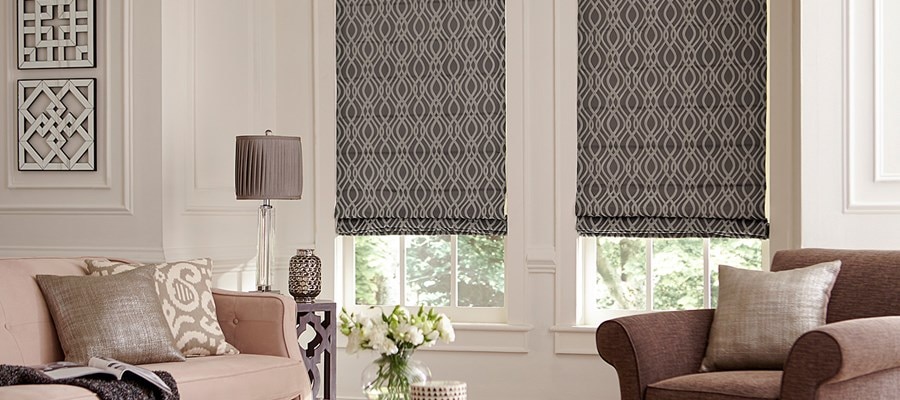 These attractive shades are made from elegant drapery material that gives a showroom quality look to every room of your home. Hundreds of colors and textures give you the perfect backdrop to create a designer look. Consider adding a room darkening or blackout liner for better light control in the bedroom.
You can customize your shade through a variety of fold styles ranging from a more streamlined flat style to a formal hobbled or teardrop fold as well as valance styles and trim. Lift options can be corded, cordless or even motorized.
Roman shades are also a great choice as coordinating fabric is available in both pillows and cornices for a magazine-quality look.
There are a few special considerations for roman shades. Some shades don't have a finished back, leaving a messy look from the outside of your home. Do your research to make sure the outside looks as great as the front of the shade. Roman shades will also cover the top of your window when raised. If a completely open view is important to you, consider a different style for your windows.
Natural Woven Wood Shades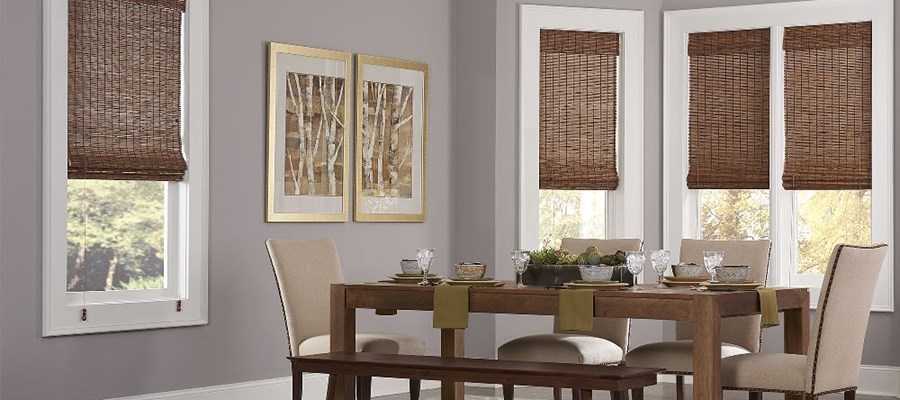 Woven Wood shades draw up like a flat folded roman shade, but are made of organic materials like bamboo, reeds grasses that are held in place with a variety of stitched patterns. The textures are unique with small gaps in the material that allow light to filter through. If more privacy is needed - consider added a light filtering or blackout liner. A movable liner gives flexibility with light control giving you the best of both worlds.
Lift options are also like roman shades, but the natural material makes them light, attractive and easy to operate with rich character, texture and style. Complementing your décor is easy with colors ranging from white to the deepest mahogany. Enhance the look and lengthen the life of your woven wood shade with edge binding. There are a few special considerations for woven wood shades. Some shades don't have a finished back, leaving a messy look from the outside of your home. Do your research to make sure the outside looks as great as the front of the shade.
Vertical Blinds/Shades/Sheers and Panels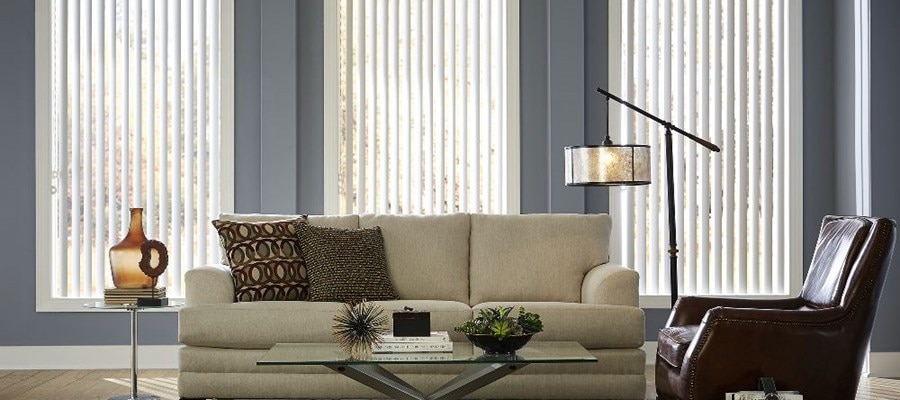 There are a variety of vertical products for large window openings or patio doors. Vertical blinds will tilt open and closed like a traditional horizontal blind to control the light and traverse open to the side or split in the center to allow a clear view outside. Materials include vinyl, fabric and sheer solar material. Vinyl blinds are available in a traditional curved shape or an s-shape for greater light control due to interlocking vanes.
Both vinyl and fabric blinds come in a wide variety of hues and textures to suit your style. Adding a PVC backing to a fabric blind gives a room darkening effect as well as keeping homeowners and condo associations happy with a uniform look to the exterior. Sheer vertical blinds soften the window allowing you to look through the sheer fabric, but giving you privacy when the vanes are closed.
Vertical cellular shades have the same features of traditional honeycomb shades, but just styled in a vertical fashion for wider openings.
Sliding panel track shades are made of the same fabrics you see in woven wood, roman, solar and roller shades. Designed for oversized windows and patio door openings, sliding panels allow you to keep a consistent look through the home with complementing fabrics.
All vertical products have varying stack widths when fully open. If a fully unobstructed view is important to you, inquire what width will give you a proper "clear opening" and make sure you have that space available next to your window.
Custom Draperies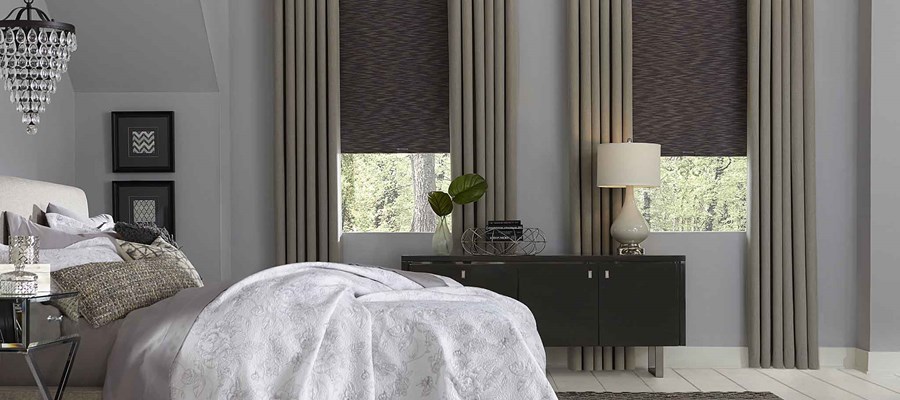 Drapery gives a finished designer touch to any room. Alone, or layered with another solution, dramatic colors and textures can make a statement or choose subtle fabrics and hues to tie any room together. A variety of liners ranging from light filtering to blackout make drapery work in any room of your home.
Matching Window Treatments
Remember when choosing your window treatments, think about what they will look like from the outside. Windows in public-facing areas should be consistent in their look, giving uniform curb appeal.
Choosing the Right Color
When you've decided on the kind of blind or shade that fits your wish list for wants and needs, now you must find the right color. Free sample swatches of our products are available online. Browse our look book to get inspirational palette ideas.
Matching colors will make your windows blend with the décor creating a cleaner look. These color schemes are harmonious and pleasing to the eye. Contrasting colors draw your eye to the window making a vibrant design statement. Coordinating tones and colors are balanced where one color dominates, and two others are used as accent colors.
There are five basic ways to choose color:
Match the color of the wall
Match the window molding or trim
Match or coordinate with an accent color
Match a wood tone in your room
Contrast with other colors in your room
When choosing color, some window treatments blinds are better suited to your needs than others. Wood blinds, woven wood hades and shutters are easy to coordinate with natural wood tones. A wide selection of colors makes roman and roller shades easy to match or contrast with almost any room. Cellular shades are the easiest to match to wall or trim colors.